Wednesday 3rd March 2021
Richy's Blog
If you would like to comment on Richy's blog, please use The Guild
Facebook page.
Please post any comments on the
facebook page.
Top
Monday 1st March 2021
One of the many things I enjoyed about ringing before the pandemic was on a nondescript weekday evening that would otherwise have been spent passing time sat in front of the TV, one of us (and indeed before parenthood, both of us) could pop out where there was ringing and be in the company of friends. The actual undertaking of ringing is almost a perk of meeting ringing chums. Sometimes there were loads of people, sometimes just a handful, but there would still be a chance to catch-up with those present and feel like you'd done something with your evening. For me, it is close to a USP of the exercise. Many hobbies are confined to a restricted local group on a regular basis, but in ringing, it is perfectly possible – in normal times – to go out on every night of the working week to join with five entirely unique groups of ringers and then cram your weekend with ringing with other friends near or far, if so desired.
Gradually, that sensation is creeping back. We can't go out anywhere to meet ringers at the moment of course, but although goodness knows we could all do with properly getting out of the house, Ringing Room has allowed us again on a dark weekday night on the cusp between winter and spring to see pals from the art and ring with them, whether that be with those at St Mary-le-Tower on a Monday, Pettistree on a Wednesday or the South-East District on the first Saturday (as we hope to do this Saturday), the North-West District on the second Saturday or the Guild AGM on 10th April. As alluded to, tonight was – as pre-Covid it was for decades – SMLT practice night, albeit only our fourth one on RR. Sadly it was a little less well supported than the last couple, meaning we peaked at eight-bell ringing, with Nigel Newton ringing two and Ruthie forsaking putting her feet up after another tough day homeschooling the boys. Despite all this, there was some decent ringing, although we discovered how tricky Stedman can be on this platform!
One of those ringing with us was David Stanford, who also features in the latest issue of The Ringing World in the 'What's Hot on BellBoard' section for his impressive quarter-peal of Yorkshire Surprise Major in hand on his own with Abel. Suffolk also gets a mention, as CCCBR President Simon Linford says that a chat with a band within our borders was one of the motivations for instigating a national call-change competition, of which he promises more details at a later date.
Meanwhile there were ringing connections 2hrs 53mins into this morning's Today programme on BBC Radio Four, as Theatre Royal Wakefield's Executive Director Katie Town and the famous composer and musical theatre impresario Andrew Lloyd Webber were interviewed about the hopes of reopening theatres as the 'roadmap' hopefully progresses. However, my interest in it wasn't theatres, for the ringing interest was two-fold. It wasn't mentioned in this interview as of course it wasn't relevant, but Katie is a ringer and an extremely talented one at that. Indeed, she is a Past Master of the Ancient Society of College Youths, holding the role from 2014-2015. What is more, Mr Lloyd Webber's in-laws Adam and Gillian Gurdon learnt to ring on the ground-floor six rung from the porch at Burgh, with a memorial service held for Adam at Woodbridge in 2019 marked with a peal on the 25cwt eight.
Both Katie and Andrew sounded reasonably upbeat about the prospects for theatres later in 2021 and hopefully we can be upbeat about the prospects for ringing too. As much as technology has helped, I really want to get out and ring with our friends in person again.
Please post any comments on the
facebook page.
Top
Sunday 28th February 2021
Our ringing in February (pretty much all done online of course, but actually quite a lot of it compared to previous months during the pandemic) finished on a bit of low note tonight, as we lost a quarter-peal attempt of Norwich Surprise Minor on Ringing Room at the last call. Frustrating as my slipped finger three weeks ago, but like that, this was just one of those things and at least we didn't have a wasted journey to somewhere to lose it! Even more so as Ruthie was carrying a nasty toe injury accrued by the accidental kicking of a stray box this morning!
By that point, we had already participated in a thoughtful weekly Sunday video chat with our fellow St Mary-le-Tower ringers, as Diana Pipe expressed what a difficult week this will likely be, with Wednesday being the first anniversary of George's passing. Hold her in your thoughts. Hopefully some ringing can be done in Suffolk to remember him, although of course it will be harder in the current circumstances.
However, it was still nice to meet with them, even if it was virtually. Although Paul Lambert losing his job as Ipswich Town manager this evening came too late for Simon Rudd and myself to chew the fat over it, the conversation was largely upbeat as David Sparling and ourselves recalled last night's Henry Johnson Dinner and provisional hopes of meeting in groups of six in the park on Easter Day were mooted.
Even if we are able to do that in five weeks, we may well be going for quarter-peal attempts online for quite some time yet. And maybe losing them too.
Please post any comments on the
facebook page.
Top
Saturday 27th February 2021
Perhaps naturally with more time on our hands and a yearning for what we once had and took for granted, I have found myself looking back a fair bit in recent months and my blog allows me to do that very easily.
What I discovered today, was that my blog entry of exactly a year ago was the first time that I'd mentioned coronavirus on this platform. It had been in the news of course and had arrived some weeks earlier, but it really hadn't impacted on our everyday life and judging by my (in hindsight ludicrously) dismissive tone towards the virus I didn't really envisage it doing so in the future either, at least not in a major way. I do recall beginning to consider that there may be events cancelled or postponed and there might be some disruption, but I think I imagined it would be something more akin to that caused by a heavy fall of snow. Infuriating, but not anything particularly life-changing.
Yet a year on, life is still on hold and therefore so is ringing. However, an end seems tantalisingly in sight. Astonishingly for something that I didn't feel moved to even mention until twelve months ago, over twenty million vaccines to help combat it have been given out and God willing keeps us on course for a return to full-on ringing on 21st June, albeit I think many of us wouldn't bet on things getting back to normal 'on time.'
And this evening we attended an event that in all likelihood we wouldn't have gone to in normal circumstances. The Henry Johnson Dinner is the annual dinner of the St Martin's Guild in Birmingham, traditionally held on the nearest Saturday to the birthday of the eponymous local renowned ringer and composer who died in 1890. When I lived, studied, worked and rang in the West Midlands, I went to the HJ eight times, all in the magnificent Council House in the centre of the UK's second city, but I last went to it in 2005 just before I moved back to Suffolk and the opportunity to go again hasn't really presented itself since. Held every year since 1889 through wars and whatever else has been thrown its way, it couldn't be held in its normal grand surroundings this time round and there was concern that that impressive record of continuity would be broken. Cue the kind of spirit demonstrated by so many since last March that led to the 133rd Dinner to be held via video tonight, in line with pretty everything else in the last eleven months. Not anywhere near as good the real thing, but nonetheless an opportunity for me to take Ruthie to an event that I enjoyed many times, even if it wasn't in its traditional form.
Similar to when we 'attended' the College Youths Anniversary Dinner in November, we prepared a dinner from a suggested menu – or rather my wife did – as we tucked into broccoli & stilton soup, chicken wrapped in pancetta, and apple crumble all prepared within our household and joined proceedings, along with others with Suffolk links such as John Loveless and David Sparling. David even got mentioned in one of the speeches, which weren't as numerous as they normally are, but were part of an hour's worth of entertainment that included a musical interlude by fellow Rambling Ringer James Ramsbottom and his fiancée Casey McLellan and - where handbells would usually be - a montage of the online and in hand ringing that Birmingham's young ringers the Brumdingers (who have been a huge success story before during and hopefully after the pandemic) have been doing over the last few months.
Clare McArdle chaired it all superbly too. It was all topped off with a montage of photos from more recent dinners, featuring the late, great Rod Pipe who learnt to ring at Grundisburgh, but also others from our county past and present, such as Laura Davies, Simon Rudd and Louis Suggett. Great fun given the circumstances and nice to get dressed up, even it was only from the top half up!
Ringing in Birmingham is something that I remember fondly. Not just for the standard of ringing, the constant progress and variety, but also because the ringers are lovely people who were very supportive in difficult times and a hugely sociable, so it was great to see so many familiar and friendly faces.
Normally there would be ringing on the morning of the event, which I have participated in previously, ringing in peals at Walsall in 2001 and Northfield in 2004 and 2005, but of course that was limited today. Still, there has been ringing on Ringing Room, another example of ringers adapting in these strange times.
There were further examples – lots of them indeed – with a huge number of towers seeing tolling carried out on the day of the funeral of Captain Sir Tom Moore, including within our borders at Hollesley by Peter Harper.
Of course this is the only ringing that can be done on church bells currently and with just one peal – rung on handbells and a handful of quarter-peals rung online, BellBoard looked very different to what it did a year ago. I pray that if I get to look at it in a year's time that it will look a bit more familiar again.
Please post any comments on the
facebook page.
Top
Friday 26th February 2021
In amongst all the excitement – for the local media and those of us interested at least – about recent rumours of Ipswich Town being taken over in the near future gaining a degree of credibility, my attention was also caught by the eagerly anticipated update to the CCCBR guidance to go alongside the 'roadmap' announced by Boris Johnson at the beginning of the week.
Generally it is what most anticipated, like ringers from different households being able to meet up outdoors to ring handbells from 29th March, restricted, socially distanced ringing – similar to that which was managed by many over last summer and at Christmas – from 17th May and full-on, unrestricted ringing from 21st June. Additionally though, from 29/3/21, up to fifteen young ringers (presumably under-eighteen-years old) could meet outdoors to ring handbells and those same youngsters could then meet together to ring following the 'out of school setting' guidance, albeit it is expected with social distancing. And from 21/6/2021 it is possible that facemasks might still be necessary.
Importantly though, those are of course the earliest dates these stages will happen and with ringing apparently already being planned for late June and ringers being asked whether bells will be possible for weddings at that point, there is a warning that making plans for shortly after the much anticipated Midsummer's Day should consider that those plans might have to be amended, moved or cancelled. We are used to that caveat these days though...
However, as President Simon Linford points out, there is light at the end of the tunnel.
Therefore, in keeping with the good vibes such high hopes engender, today was one of celebration, the type of which God willing we can celebrate properly within the next few days, as my mother Sally marked her birthday in the subdued fashion that so many have had to over the last year. Being the first since Dad died, it would have been lovely to actually celebrate it with her in person, but we at least spoke to her on the phone, with the boys each passing on their felicitations in their individual styles!
It would be nice to meet up with our ringing friends too, but in the circumstances we were again delighted that technology allowed us to catch-up with them by video as a number of us from Suffolk, Norfolk and beyond joined Simon Rudd for his weekly virtual pub where the assembled mainly reminisced on exams amongst much else. Although with Ipswich Town supporters and enthusiastic, and active ringers present, surprisingly not football club takeovers or ringing roadmaps.
Please post any comments on the
facebook page.
Top
Thursday 25th February 2021
Magic Blocks. For some they won't have heard of them. To others it will be a mysterious aspect of the art. And for many the perception is that it is far too complicated to contemplate. In each case, I would strongly encourage them to watch David Pipe's video talk to the St Martin's Guild last night, which is now available to view on YouTube and kept me enthralled for just over an hour as Ruthie sang with her choir in the next room and when I wasn't constantly telling the boys to get to sleep!
There will be a number for whom this may understandably seem inconsequential to their everyday ringing, especially at the moment where several will be considering if they will still be able to ring Grandsire Doubles when we eventually return to full-on towerbell ringing! Yet like so much that is considered 'elite' ringing and even out of touch from 'grassroots' ringing, it offers a way of actually making one's path through ringing simpler. I have often spoken of how I and most others who ring touches, quarters and/or peals of multiple Surprise Minor methods spliced learn all those methods, sometimes up to forty-one and indeed more in one performance. That we only need to know a handful of those methods to then know many, many more. If you know Cambridge, you should easily be able to ring Primrose (which is the same but for a bell making sixths at the lead-end instead of a bell making seconds), Ipswich (which is the same but for a bell leading full at the half-lead instead of a bell making fifths) and Norfolk (which is both). Even Ebor, (where a bell makes fourths at the lead-end) and King Edward (where a bell makes thirds at the half-lead). Newall is Ebor with a bell leading full at the half-lead. And Queen Mary is King Edward with a bell making sixths at the lead-end. Wells is merely London with a single change of place notation. Westminster has a long frontwork which can be varied only slightly to become Allendale and Fryerning. Much of the rest can be worked out by knowing the below work (in the places underneath wherever the treble is on its path to and from the back) and the over work (naturally in the places above where the treble is) of a few methods. For example, if you know Carlisle, the above work for that is the same above work as Alnwick, Chester, Munden, Newcastle, Northumberland and Sandiacre, as well as the various versions where a bell makes sixths at the lead-end. Before you know it, you have all the methods in your mind, with the only other bit of memory needed being to put the right names to the right variations. However, it becomes easier the sooner that you learn the structures of methods. If Mr Pipe's talk can prompt a learner to consider that the reason that they have to dodge at the lead-end in Plain Bob to allow a bell to make seconds to the treble and thus prevent it from being Plain Hunt, or that you have to make thirds in St Clement's College Bob because two bells are dodging on the front continuously throughout a lead, then it will have served a purpose to even those just starting out in change-ringing.
For although even David admits that some of the language and the in-depth aspects of his presentation may well bamboozle you, he shows that by knowing method structure you can take the way in which many of us learn multiple Surprise Minor methods outlined above a stage further by knowing relatively few under works and over works to ring an extent of Treble Dodging Minor in up to sixty methods by changing above works and below works essentially assigned to when a bell makes either seconds at the lead-end or fifths at the half-lead, meaning you can be changing works every half a lead. Exhilarating stuff I imagine, especially when rung at speed on handbells! Additionally, it releases the burden of remembering the names of methods, thus allowing DJP, Andrew Tibbetts and Philip Earis to ring a 20880 of 1053 Treble Dodging Minor methods in 2005!
Do watch if you can and stick with it. No one would expect you to be ringing Magic Blocks of dozens or hundreds of Treble Dodging Minor methods (although it could be a fun exercise on Ringing Room!), but I hope it gives you a new way to look at how you are learning methods and that it enables you to hasten your progress.
Talking of progress, as mentioned yesterday, today saw the new eight for Laxfield arrive in the village and hanging begin, all of which can be viewed on the project's webcam and which I watched a little of during my break from work. I imagine there will be more to watch in the coming days.
There was also that anticipated piece on Lesley Dolphin's BBC Radio Suffolk show this afternoon, which featured reporter Luke Deal interviewing local ringers Fiona Shuttle and Robin Woolward, as well as the vicar the Reverend David Burrell and some of the excited villagers who gathered (socially distanced I'm assuming!) to see the octave's arrival, all of which was great PR for local ringing.
Although I suspect that the listenership of our local BBC radio station wasn't ready for Magic Blocks yet.
Please post any comments on the
facebook page.
Top
Wednesday 24th February 2021
If there was ever a day that makes us yearn for the starting up of proper real life, it was today.
Such were the exhausting struggles that Ruthie had trying to motivate two young boys - clearly struggling to get going in their homeschooling again after their week off for half-term – to do the work set by their teachers, that I ended up being called upon to help out (yes, things had got that desperate!) at lunchtime and after work. Their return to actual school planned for the 8th March to resume their proper full-time education can't come soon enough.
And on the evidence of our attempts on Ringing Room for the weekly online Pettistree session this evening, neither can full-on change-ringing on actual towerbells. Not because of a lack of ability on this occasion, as we didn't get far enough to test that. After another excellent quiz from Hilary Stearn – won by the boys' grandparents Kate and Ron after a thrilling three-way tiebreaker between Peter Harper and ourselves that saw us grossly overestimate the number of gold medals that Team GB won at the 2021 Olympics – that was beset with unusual but considerable internet issues for a number of us, those issues continued into the ringing afterwards, where it only took a few rounds and a couple of changes of Norwich Surprise Minor to realise that we weren't going to get any useful practice tonight. Therefore, Hilary impressively rustled up another quiz – won this time by Mike Cowling – and once we'd tried the Norwich again, only to find the same problems as earlier, we called it a night.
Still, hope of better days ahead was rekindled by the photos shared by Suffolk Guild PR Officer Neal Dodge on the SGR Facebook page of the new eight for Laxfield that is due to be delivered to the church tomorrow, with . All being well, there will be a piece on Lesley Dolphin's BBC Radio Suffolk show tomorrow afternoon between 2-6pm and via the project's superb website there will presumably be the opportunity to watch proceedings on the webcam. It might be worth keeping an eye on their Twitter feed, Facebook page and Instagram account too. Additionally, he also mentions a permanent exhibition on the bells and ringing to be created in the Laxfield and District Museum as part of the project.
Something else to make us yearn for the starting up of proper real life.
Please post any comments on the
facebook page.
Top
Tuesday 23rd February 2021
Nice bit of ringing PR on the East Anglian Times website and 2hrs 23mins into Lesley Dolphin's BBC Radio Suffolk show this afternoon, with the ringing of the 15cwt six at St Clement's church in Ipswich for the 250th anniversary of the death of Sir Thomas Slade, who designed Lord Nelson's flagship at Trafalgar HMS Victory and is buried in the churchyard of this redundant church. They weren't rung in the usual sense of course, but rather maritime tunes chimed remotely in an operation arranged by Katharine Salter and she is mentioned both in print and on the airwaves. And whilst not about change-ringing, it was an innovative way of keeping bells in the public eye whilst they can't ring out from church towers in the way we would like them to.
That's not to say that Ringing Room doesn't offer opportunities of progress for the county's ringers. Well done to Norman Tower ringer Tim Hart on ringing his first of Superlative Surprise Major in the 1280 rung with Past Ringing Master at St Mary-le-Tower Simon Rudd and current SMLT band member David Sparling.
Meanwhile, CCCBR President Simon Linford's blog was published today, with an ambition to put updated guidance on the Central Council's website by Friday to reflect yesterday's announcement by Boris Johnson. However the two main themes were young ringers – including mention of an as-yet unnamed organisation for ringers under the age of twenty-five – and QP ringing on RR.
After achieving a fair amount ourselves on the platform over the last couple of days, there was no ringing for us, but we were glad to hear of other ringing going on within our borders.
Please post any comments on the
facebook page.
Top
Monday 22nd February 2021
Never has 22nd February ever been so anticipated by so many at once, but of course today was the day that Prime Minister Boris Johnson announced the hoped for 'roadmap' out of the dreadful purgatory of coronavirus restrictions. It was framed with lots of entirely necessary caveats and warnings that dates revealed for the various steps in lifting restrictions are only "at the earliest" dates, whilst - as I've mentioned before - the default position of myself and many others is "I'll believe it when I see it".
Personally we were delighted to hear that the boys will be back at school - where they really need to be - on 8th March, whilst handbell ringers are already arranging peal attempts for the 29th March when God willing six people or two households can meet. Many in the exercise will be keen to drink outside a pub from 12th April if all goes to plan. The first date that stands out for ringing towerbells though is 17th May, which is pencilled in for allowing mixing indoors and seems to be the point where circumstances will be most like when we had the restricted ringing we have had periodically since the pandemic struck. And then the date that will be the most eagerly awaited for many in parts of society, 21st June, when the dream is that we will be able to throw off all the shackles that we have been weighed down with for nearly a year now and fifteen months by that point. Might we be able to return to full-on ringing for Suffolk Day and beyond? Or will the soul-destroying social distancing rule still be hanging around once the review of that is made? And if it is, is there any way that ringing would be able to get going more fully?
The truth is of course that we can't say for sure, which is why everyone is being so cautious about this. Indeed, I'd go as far as to say that I would be absolutely staggered if we actually see all restrictions lifted in June, but at least it gives us something tangible to aim for and I expect the Central Council will be able to give more information on how exactly ringing fits into this four month process in the coming days, once they have digested the information and discussed it with the Church of England Recovery Group. Keep an eye on their website!
For now though, Ringing Room remains mine and Ruthie's only real means of getting our change-ringing fix with others and this evening we were on there again, this time for the weekly St Mary-le-Tower practice, which again proved fun but productive. Abby Antrobus couldn't pull the second off, Nigel Newton attempted to contact us from beyond through the medium of bells when others thought he had gone, whilst there were plenty of the glitches we have become used to as we get to grips with online ringing, such as double-clappering, a single accidentally being thrown in by a slipped finger and confusion over who had been assigned which bell. Yet we still made progress, with some Plain Hunt on Eight for Abby that I called, touches of Grandsire Triples and Plain Bob Major and the first ringing on twelve most of us have done since 'Dark Monday' as we rang some rounds.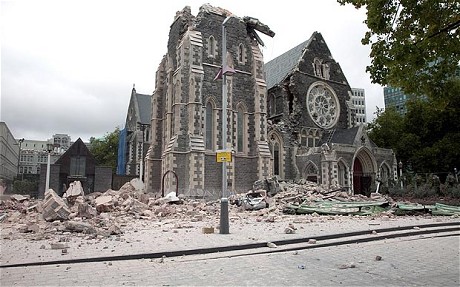 Meanwhile, it was very moving to see the commemorations in New Zealand to mark the tenth anniversary of the earthquake that hit Christchurch, destroying the Cathedral's tower that housed its 24cwt twelve. A video on the BBC website shows the interior of the Cathedral and lays out plans to rebuild and reopen it by 2028, a plan that seems to include the return of the bells, with a mention made of them in a quote from Prince Charles on the homepage of the project's website and a section in the FAQ section, complete with a couple of superb videos, one focusing on how the Cathedral's ringers have been coping since the events of 22nd February 2011 and one covering the history of the bells before and after. All of which offers hope.
Let's pray that today's announcement comes good on the hope it offers.
Please post any comments on the
facebook page.
Top
Sunday 21st February 2021
Ringing Room is apparently a year old today, marked on this mild Sunday by a number of performances on the platform, including a 5760 of 147 Treble Dodging methods, whilst appropriately Past Ringing Master at St Mary-le-Tower Simon Rudd – who must surely have rung more quarter-peals on RR then anyone else – rang a trio of QPs, including his 250th on there. Meanwhile, here in Suffolk, seven residents ringers helped Val Hewer of Canada ring her first quarter with a 1344 of St Martin's Bob Triples that was also a first in the method for her sister Andrea Alderton, as well as for Lucy Dawson and Tony Mason. Congratulations Val and well done Andrea, Lucy and Tony!
We too were also succeeding on Ringing Room on its first anniversary, with a 1272 of Cambridge Surprise Minor with our fellow Pettistree ringers, a success all the more impressive for various interruptions from Alfie wondering when we'd be finished and what else he could eat! It was a well rung piece too, helping to make up for the disappointment of a fortnight ago.
I have to admit to being surprised to find out that this wonderful innovation has been around for twelve months already. Whilst coronavirus was in the news on 21st February 2020, I don't recall even considering that ringing would be restricted at all, let alone stopped altogether as it was less than a month later. Plans were still being made, including for Ipswich's first entry into the National Twelve-Bell Striking Contest for thirteen years and indeed on this very Sunday a year ago we were in the northern West Midlands town of Walsall practicing for the competition on the bells of St Matthew where we were due to compete, a sign that actual contest was pretty imminent.
However, as we all know, all such plans were shortly to be completely decimated and meeting with our fellow SMLT ringers reduced to video chats like this morning's nonetheless jolly get-together. Therefore, the fact that Leland Kusmer and Bryn Reinstadler had the foresight to develop Ringing Room is something that ringers need to be eternally grateful for. For all that there can't be many – if any – ringers who would prefer ringing online to ringing on real handbells or towerbells and that it took Ruthie and I several months to give it a go, in the absence of being able to gather to ring together in person (almost certainly not fully in church towers until much later this year at the earliest, despite today's stated aim to offer every adult the UK the vaccine by 31st July) it has – along with Ding and Handbell Stadium to a lesser degree – enabled change-ringing to continue when it just simply wouldn't have for all bar a relatively small of households of handbell ringers for much of the last year. Happy Birthday Ringing Room!
Please post any comments on the
facebook page.
Top
Saturday 20th February 2021
I did my bit for getting society generally and full-on ringing in particular up and running this morning, as I took my mother Sally for her first vaccine dose. It was purely precautionary that I took her, just in case she had an immediate reaction (she had heard of someone fainting straight afterwards!), but as it turned out it was an incredibly routine and efficient procedure that should be reassuring to anyone wavering about having a vaccination that is going to be the only way we are going to get back to normal. And the trip out to Gainsborough Sports Centre was what equates to a day out these days!
That sensation was perhaps reiterated by the Ringing Room Handbell Extravaganza that saw an incredible fifty-nine quarter-peals rung today on the platform, but we didn't participate in any of it. Instead, we enjoyed the more traditional aspect of the art as we read the latest issue of The Ringing World which arrived today, complete with a superb Mike Whitby photo of the little wobbly red-brick tower at Grundisburgh in the snow on the back cover.
After that though, our evening was back online and non-ringing related as we virtually met with our friends Kala & Nick and Toby & Amy for a quiz on world leaders, alcohol, films & TV, Disney and the questions that Bradley Walsh couldn't get through without laughing on The Chase. Great fun, but still not as much fun as if we could've met in person.
God willing Mum's vaccine this morning is one vaccine closer to us meeting together and also quarter-peal days on real bells.
Please post any comments on the
facebook page.
Top
Friday 19th February 2021
I never envisaged I would write it on this blog, but today marks precisely a year since I last rang a peal. The 2hrs 3mins ringing together in a shed with seven other people from outside my household would currently be viewed with an amount of incredulity and disgust previously reserved for various heinous criminal acts, but of course back then it was entirely normal and innocent, just a bunch of keen bellringers doing what they enjoy and benefitting from each other's company.
It is the longest period I have gone between ringing peals since the sixteen months between my first and second peals and my mind can't help but wonder about the peal-ringing missed out on and the socialising and satisfaction that often surround them. Quite apart from the monthly attempts in Old Stoke followed by tea, biscuits and typically intriguing insight into East Anglian ringing's past, the brace of attempts there on Good Friday are typically a highlight of my ringing calendar, as well as for Mason as he gets to spend the day with his contemporary Henry Salter whilst I play on bells. Birthdays of all three sons have gone unmarked with peals, something that I have been particularly gutted by as the plan had been to mark their birthdays throughout their childhoods with something that they can God willing look back on with gratitude that people have taken time out to celebrate their big day and as something last lasting to remember. Undoubtedly a peal for Dad's seventy-fifth birthday in June would have been attempted, as would one for his death in September. I had already started arranging an attempt at The Norman Tower for my brother Chris' fortieth birthday towards the end of 2020 which obviously had to be abandoned. There would've probably been others too, such as the usual December attempt at Pettistree to mark the anniversary of the bells' rededication and the subsequent first peal on them and as with the week during which that 5056 of Elmore Surprise Major at The Wolery was rung, this week would've been Suffolk Guild Peal Week, Tom Scase's final one as SGR Ringing Master.
That success 366 days ago was also the last one for our host Katharine Salter and George Thoday and having noted in the footnote of his first peal of 2018 that it was the sixty-first consecutive year that he had rung a peal, I expect he is keen to ring at least one before we get to 31st December so that he can say he's been peal-ringing for sixty-four consecutive years!
I'm keen to ring a peal in 2021 too. Peals aren't the be-all and end-all of an exercise that offers so much from practices to quarter-peals to outings and to holidays to open days to striking competitions and far more, but some of the best ringing I have done is in peals. I miss being able to have a concerted focus on a method and/or striking and rhythm and I think peal-ringing will – or at least should – have an important role to play in getting ringing up to speed to high standards once we're allowed to on towerbells.
When I mentioned it on our weekly virtual pub with Simon Rudd it prompted discussion with those present about when they last rang a peal too, but it wasn't all ringing-related chat. Books, vaccines and the number of bathrooms that David Stanford has taken apart were amongst the topics that kept us entertained, usually with much hilarity! These have really been something to look forward to at the end of weeks where often there hasn't been much to look forward to. Especially peals.
Please post any comments on the
facebook page.
Top
Thursday 18th February 2021
On a quiet evening unusually without any video chats or ringing on Ringing Room, an article on the East Anglian Daily Times website caught my attention. The general gist was that many people have discovered throughout months of enforced winter lockdown that they aren't quite as keen to retire as they were before. They have – so the theory outlined goes – realised that they quite like the structure and focus taken from those unable to work and without children to school, whilst not being able to indulge in as much outdoor activity with the weather at its most unappealing.
Even putting aside that God willing by future winters (hopefully from next winter!) there will be much more to do and places to go then in these times when all but that considered the most essential of services are closed, the notion that retirement means there is no longer anything to do grates me almost as much as the old whine that there's nothing for children to do in communities surrounding a band of ringers crying out for new recruits to an inexpensive enthralling lifetime hobby.
In normal times there is loads to get into if you really want and ringing is one of those. As we know, it offers that structure and focus all year round and an opportunity to always have something new to learn. The mental exercise is accompanied by physical exercise and a potentially huge circle of new friends. Some may sniff at teaching more mature learners, citing that they will offer fewer years of service and are often harder to teach than younger learners. However, they will help us ring as many of our bells as we can and could still offer many years of help and progress, with the one example that springs readily to mind being that of the much-missed Susan Schurr who learnt to ring at Pettistree in her seventies and yet rang many quarter-peals and offered so much to ringing at the ground-floor six until her death a decade ago this year.
When ringing resumes, there will likely be gaps where ringers don't return, so all new recruits will help the exercise get back on its feet quicker, and I'm hoping we can make ourselves known to retirees who don't know about us.. Indeed, with Ringing Room there is the chance to attract learners now!
Meanwhile, on another local media medium, Claire Horne (Whiting) was on BBC Radio Suffolk talking about honey around 2hrss20mins into James Hazell's show. Whilst ringing wasn't mentioned, it was nice to hear another ringer on the airwaves!
Nice also to see a Suffolk band ringing a quarter-peal of Annable's London Surprise Minor on Ringing Room, which was North-West District Ringing Master Maureen Gardiner's first in the method – well done Maureen!
As mentioned though, it was a day without ringing for us as instead I pondered if there will be ringing on Mars one day as I watched news coverage of Nasa's Perseverance rover landing on the red planet, with an enthralled Alfie. Exciting stuff and a lovely way to pass a quiet evening!
Please post any comments on the
facebook page.
Top
Wednesday 17th February 2021
Ash Wednesday is the start of Lent and traditionally a time when some Christians will be embarking upon forty days of depriving themselves of something that they perceive that they perhaps overindulge in. This time round though, it may be that after a year when most have been deprived of much of what they once took for granted, I wouldn't be surprised if fewer feel it necessary to go without something else!
Still, it remains an important part of the liturgical calendar, as well as an important part of the ringing calendar normally, especially in this county. Usually the period of Lent is completed with Holy Week when many church bells stay silent, but unless the pace of restrictions being lifted is carried out much faster than anyone currently anticipates then that won't be an issue for the second year running. However, after being delayed to September in 2020, 2021's Suffolk Guild AGM is planned to take place on the Saturday after Easter ass usual, which this time round is 10th April, albeit on Zoom of course. I expect more details will be released closer to the time, but keep the date free!
There may be online ringing for the occasion in the absence of real-life towerbell ringing, especially as increasing numbers of SGR members appear to be giving Ringing Room a go. The latest tower that we have heard of joining in is Hollesley, which Ringing Master of the 16cwt eight Peter Harper informed us of having won tonight's pre-practice quiz (with an admirable 9/10!) set by Hilary Stearn for the Pettistree ringers. The session that followed was indicative of the progress that we have made in four months of ringing on RR, as amongst other things we rang some well rung Surprise Minor of the London and Norwich variety and a decent plain course of Grandsire Triples on a successful evening, especially as one of the participants was having considerable trouble with their broadband speed!
Present at the practice was Mike Cowling, who was fresh from a quarter-peal rung on handbells with his brother Geoff two hundred miles away in Herefordshire via video, whilst across the country and indeed Europe, it was another busy day of ringing online, whilst a comment on Facebook seemed to suggest 30,000 ringers are now registered on Ringing Room. That seems a lot, but if true is a good sign if we want as many ringers as possible to be change-ringing sharp when ringing resumes. And hopefully we should be able to ring on there during Holy Week too!
Please post any comments on the
facebook page.
Top
Tuesday 16th February 2021
On the face of it, the postponement of this year's Women's Tour cycle race that was due to climax in Suffolk in June to October 9th is just another bit of bad news, another event that people can't enjoy in yet another sparse-looking summer. However, the silver-lining is that it possibly offers an opportunity for ringing – maybe even our first for a long time – to do some ringing for a special occasion, whilst at the same time garnering some positive publicity. October might be a lot chillier than June, but can you imagine the carnival atmosphere of crowds lining the route, finally allowed to do such things, whilst bells ring out freely without restriction?
These days it goes without saying that massive caveats are attached to such hopes. Even if the race can go ahead – and in the context of the last year, that is far from certain – then there is no guarantee that ringing will be allowed in an unrestricted format in the autumn, with depressing worse-case (for now?) scenarios still persisting that social distancing may remain until 2022, but there is a far greater chance that we could be able to ring side-by-side in eight months time then there is in four months time. Therefore, hopefully the Guild's ringers will mark the date in their diaries currently bulging with Ringing Room sessions and Zoom chats with a possible chance to ring actual towerbells properly, especially as it is a Saturday. At the moment, the route is understandably vague, but is due to run from Haverhill (home to a 12cwt six) to Felixstowe (where one can find a 7cwt eight) and on a radio interview the organiser mentioned that Sudbury (with its brace of octaves at All Saints and St Gregory and 20cwt ten at St Peter), Stowmarket (hopefully with its new 20cwt ten by then), Wickham Market (and its 12cwt six) and Woodbridge (where there is a 25cwt eight) would be along its way from near the Cambridgeshire border to the coast, so all being well there should be plenty of opportunity to ring as the peloton goes past.
I have to admit when we rang a quarter-peal at Grundisburgh as the men's race sped past in 2017, we were disappointed that the only bit of the race through the village that was cut from the highlights show later was when the bells would've been heard, but with ambitions for this race to be shown live on TV, the hope will be that the bells stand a chance of being heard if rung.
Currently such adventures seem as distant and remote as it can possibly get, but it is good to see ringers making the most of what they can do at the moment, including within our borders where David Stanford rang a quarter-peal of Yorkshire Surprise Major with his friends Abel, Abel and Abel!
No ringing for us this evening though, although after enjoying Pancake Day with the boys and Ruthie, I joined the ASCY for a tradition that goes back years, but which I have never had the chance to join. When Society member Rev. F Llewellyn Edwards died in the 1950s, he bequeathed a fund so that at 8pm on Shrove Tuesday other College Youths present at that night's practice could have a free pint from the fund. It is a tradition that has been maintained ever since, even if due to shrinking interest rates and rising beer costs the pint has gradually dwindled to a half-pint and then a jug between them, despite occasional top-ups!
Of course members couldn't meet up to do that on this Shrove Tuesday, but as with the monthly meetings it was moved online, thus allowing me to join them too to raise a toast to Reverend Edwards and listen to Master Swaz Apter talk about him, whilst Chris Rogers reminisced about meeting him with his father the late Harold Rogers who learnt to ring at Chediston. And afterwards it turned into quite a social occasion where many of the more established members and Past officers chatted fondly about old currency in the week where the fiftieth anniversary of decimalisation was remembered. It was quite fun being able to mingle with ringing friends that I didn't get to catch-up with often even pre-Covid. Norwich City sympathiser David House even got the opportunity to have a little friendly dig at Ipswich Town's latest depressing evening!
Meanwhile, after my recent pontificating on how ringing and ringers can do more to be environmentally-friendly, it was interesting to catch a video that suggests some within the Church of England are thinking along similar lines and so it may be something that is asked of us when we return, especially if the relationship between the church and ringing comes out of the pandemic closer.
Hopefully that relationship and improved circumstances will allow for ringing as women's finest cyclists cross the county on 9th October.
Please post any comments on the
facebook page.
Top
Monday 15th February 2021
More fun and progress on Ringing Room, this time this evening with the second weekly St Mary-le-Tower RR practice. There was a little disappointment after last Monday's maiden session that more weren't present then, but after a little more convincing of the merits of the platform (and a reminder to one member who had forgotten about it seven days ago), a decent gathering of ten appeared onscreen for an hour of improving ringing that climaxed with a touch of Grandsire Triples and even some ringing on ten. Even with the additional online ringing experience of Nigel Newton, it was still impressive progress with two first-timers and one second-timer there. We might not reach the standards we were capable of on the 35cwt twelve a year ago, but perhaps in time (and all the indications suggest that it will be some time before full-on ringing resumes), we may get some invaluable practice on higher numbers during a period where otherwise there would've been nothing.
Meanwhile, a message on the project's Facebook page today announced that work in the tower at Stowmarket in anticipation of the arrival and hanging of their newly augmented ten has had to be stopped due to an outbreak of Covid "at the works". Normally this would be a massive setback to a job like this, but whilst we are all eagerly anticipating hopefully being able to ring on the returned bells as soon possible, even if it all ran to time we likely won't be allowed to ring them (in all their glory at least) for a few months yet and so in the context of the backdrop to which this project has been running it is actually quite a minor interruption to proceedings!
Further afield, Gail & Matthew Lawrence – a lovely couple who I often rang with during my time living and ringing in the Midlands – were again busy adding to 2021's sparse but increasing peal totals with an incredible 161 Treble Bob Minimus methods on handbells in Shropshire.
Progress for them and perhaps quite good fun too!
Please post any comments on the
facebook page.
Top
Sunday 14th February 2021
Love was in the air.
Being Valentine's Day, couples were marking the day of romance, most of them probably in much the same way we did as we went out as far as any of us are currently allowed for a meal – to our dining room. A self-prepared three-course dinner and some fizzy once the boys had gone to bed is as much as one can hope for at the moment!
There was a lot of love for the announcement that fifteen million people in the UK have now been vaccinated, God willing bringing normality and full-on ringing even closer.
Judging by the number of likes for each performance (forty-five between them when the day ended), there was also much love for the 5040s of forty-one Surprise Minor methods spliced rung on Ringing Room and fourteen Surprise Royal methods spliced rung in Sydney, which combined saw the first time in 2021 that two peals have been rung in the same day.
Tenuously linked to this theme, there were a number of couples on the weekly Sunday morning video chat for our fellow St Mary-le-Tower ringers that we joined again today, where the main headline was Nigel Newton – after much nagging from Amanda Richmond - finally breaking into a box of chocolates he got at Christmas!
After weeks of homeschooling, Ruthie was loving having the chance to finally read John Loveless' biography of George Pipe, Shake my hand and I'll show you the ropes. A reminder that copies are still available from The Ringing World Shop, if you haven't already got a copy.
Ringers also seemed to love suggesting what ringing events they'd go back to if they could turn back time. One suggestion from someone to return to Ipswich in 1500 to "to see what ringing on the 1st complete 5 was like & what they rang" is tempting, but I have to admit that I couldn't pinpoint a particular moment in ringing history that I would return to. I did contemplate going back to various peals and quarters I've miscalled or caused to end prematurely, but as in life mistakes and misjudgments are inevitable and should lead to making one a better person, such occurrences in the art should make one a better ringer. If I could, I guess the easiest answer is to return to my ringing childhood and the sense of adventure that travelling Suffolk to various ringing events carried.
Travelling our beautiful county ringing in my carefree youth? What's not to love?
Please post any comments on the
facebook page.
Top
Saturday 13th February 2021
Rambling Ringers represents the ultimate in ringing adventure in a typical year. The summer tour goes to places as far flung as Cornwall, Kent or Yorkshire and many areas in between, taking members down country lanes, over hills and along coastlines to around eighty towers in all sorts of places across a fortnight. Usually fifty-seventy come and go, from a few rings of bells to the entire two weeks, from across the country and indeed the world. We nearly always make new friends alongside renewing old friendships, discovering village pubs, going in and out of each other's tents and caravans at the campsite and ringing a huge variety of methods. Even the Reunion Dinner held annually at this time of year – but which we haven't been able to attend for a few years – can be a wonderful social weekend away of ringing, eating and drinking in another part of the country.
All in all, Ramblers is the exact opposite to what we have had to endure for much of the last year. Still, it was lovely to be able to meet with many fellow RRs this evening in place of the Dinner which like just about everything else over the last eleven months wasn't able to go ahead, even if – again like just about everything else over the last eleven months – it was restricted to a screen on our dining room table. In keeping with the vast geographical spread of the Society, those present logged in from across the UK, as well Jersey, France, the Netherlands and the USA, where our convener Susan O'Neill lives and rings. Although with it being the middle of the night there, we were understandably not joined by one member currently based in Singapore!
There had been a Ringing Room set up in case people wanted to ring, but in the end everyone was enjoying just catching up with each other on an upbeat session, although St Mary-le-Tower ringer and Rambling Ringer President Chris Birkby imparted on a rare downbeat moment, the chances of the Tour going ahead this year are rapidly dwindling.
Closer to home (or rather further from home in these strange times), Neal Dodge shared photos from Neil Thomas and Matthew Higby of the 5cwt six of Troston being removed after nearly sixty years sat in the nave, ahead of their rehanging in a new frame by Matthew Higby & Company Ltd.
Meanwhile, our meeting with fellow Ramblers was part of a day that took in a walk around nearby Bromeswell – home to a 5cwt two - and a read of The Ringing World which arrived this morning and features a letter from Suffolk ringer Claire Whiting from Oakley, an article about a 'tower grab' inspired by Reydon and Southwold ringer Helen Price and a mention of the Bardwell band in 'What's Hot on BellBoard'.
For the current circumstances, it was a pretty adventurous day.
Please post any comments on the
facebook page.
Top
Friday 12th February 2021
As I've mentioned before, I'm often wary to go overboard on achievements when the achievement is simply because it is a first for someone of their race or gender. I worry about sounding patronising, such as congratulating a band for the first peal of forty-one Surprise Minor methods rung by a band entirely made up of women when each of the band have rung several peals of forty-one Surprise Minor methods (most of them more than me) before. Many ringers of both genders have shown what all ringers – male or female – can achieve. However, the work done through the Women in Ringing project has shown many women still don't get the same opportunities in the art and unbelievably in some cases still face some of the same perceptions and discomfort in ringing chambers that most female ringers of decades ago would recognise.
That said, today marked an anniversary that reminds us how far women in ringing have come as the exercise celebrated the first peal rung on towerbells by a woman, rung by fifteen-year-old Alice White at St Michael's church in the Hampshire town of Basingstoke precisely one-hundred and twenty-five years ago when she trebled to a 5040 of Grandsire Triples. She was very much in the minority of that band as female ringers generally were at the end of the nineteenth century and yet today her performance was celebrated (entirely online in another aspect of ringing in 2021 that I expect that Alice would've struggled to envisage) by various female-only and female-predominant bands, including by Suffolk ringers, as Bardwell ringer Ruth Suggett rang 1-2 to a quarter-peal of Plain Bob Minor and Woolpit ringer Nigel Gale knocked behind to a touch of spliced Triples, both on Ringing Room.
Linda Garton didn't do any ringing today to mark the event as she was otherwise unavoidably detained, but quite apart from being at the forefront of much of the progress of women in ringing, she has been writing some brilliant articles in The Ringing World on the subject of ladies' peals in recent months and so it was nice to see her and husband John Loveless this evening at Simon Rudd's weekly Friday virtual pub, where children's jokes seemed to be the order of the night!
Linda also gave that talk to the St Martin's Guild on Wednesday and that and the first peal on RR of a Magic Blocks composition rung yesterday are good reminders that the next talk to the SMG on Wednesday 24th February (then presumably available on their YouTube channel after that) is due to be by David Pipe – son of Rod Pipe who learnt to ring at Grundisburgh and therefore nephew of George & Diana - on the subject of Magic Blocks.
It is an example of achievements in the art to be celebrated, regardless of gender!
Please post any comments on the
facebook page.
Top
Thursday 11th February 2021
We don't have a crystal ball to predict the future, but we are all hoping for a speedy and safe return to normal in our lives and in ringing. When and how are dependent on factors out of our control but return to ringing we will and we want to do it well.
The opening paragraph of Issue Three of the newssheet from the Survival and Recovery Team sums up perfectly ringing's position at the moment. We can't do anything about when we return to full-on ringing, but we can do something about how well prepared we are for it, whenever it comes. There will be the loss of ringers, bands and even churches themselves and so those ringers who want to return to the art and to see it thrive ought to be looking at ways they can keep themselves and other ringers they used to ring with connected. This issue features contributions from Suffolk ringer Claire Whiting and Past Ringing Master at St Mary-le-Tower Simon Rudd extolling the virtues of online ringing and I would echo their sentiments. However, whilst Ding, Handbell Stadium and Ringing Room at least allow ringers to progress in their change-ringing (I for one have enjoyed getting more familiar with methods like Cornwall and Lessness Surprise Major on RR) - even if it is starting from a lower base to where you started - and therefore it is by far the best way available to us currently to keep our ringing brains sharp, those who prefer not to get involved with the online ringing platforms, can join in with video gatherings or simply phoning other members of their band or ringing friends, as many in Suffolk already are.
That said, as this issue highlights, there is considerable "pandemic fatigue." The novelty of meeting others by Teams or Zoom wore off some time ago and it is difficult to find new ways of making staring at a computer different or interesting, so the Survival and Recovery Team are also looking for ideas to share.
One thing we have done lots of since were first confined to our homes nearly a year ago but which we haven't got bored of yet are quizzes. The variety of topics and the effort that quizmasters have put in have helped keep these pretty fresh and entertaining and so it was tonight as we and a number of others joined our ringing friends in Bury St Edmunds for their inaugural quiz on what would've been the Norman Tower's practice night, if ringing on church bells hadn't been stopped just before they moved their weekly sessions from a Tuesday. Sadly computer problems prevented my mother Sally from joining us, but a goodly number did participate as rounds on Suffolk, breweries, bells and other subjects eventually led to the aforementioned Mr Rudd coming out victorious. Great fun and thank you to the Bury ringers for a great night.
Whilst one fellow quizzer then went off to join another quiz 'in' Portsmouth, Ruthie and I sat back and took in Linda Garton's talk to the St Martin's Guild from last night and which is now on YouTube. The subject (From Hats to Bikinis: the history of ladies' peals) – in keeping with her superb articles in The Ringing World in recent months – was the history of ladies' (or should that be women's?) peals that took in so many performances, familiar names and faces and many wonderful photos of bands taking us through from the small (and it has to be said in amongst much patronising!) beginnings of women ringing peals to the modern day where the very need for ladies peals is being questioned. Super stuff.
Meanwhile, the CCCBR announced today that National Lottery Grants for Heritage have re-opened and it may be worthwhile those within our borders fundraising or planning to fundraise for ringing projects to take the time to read in case it might be of use. It would be wonderful if such funding could help Suffolk's bells to be ready for the future, even if we don't have a crystal ball to predict what that might look like.
Please post any comments on the
facebook page.
Top
Wednesday 10th February 2021
Simon Linford's blog as President of the CCCBR continues to inform and entertain with entry twenty-seven appearing on the Council's website today, but it's perhaps reassuring to see that much of what he covers has already been mentioned on my blog in recent days! There is still additional content worth noting, such as his thoughts on making finding ringing information on the internet easier to find, marmalade, "Survival & Recovery Champions" and the Gloucester & Bristol Diocesan Association Winter School.
Meanwhile, the draft minutes from the latest Suffolk Guild Recruitment & Training Committee meeting a week-and-a-half ago highlight the work going on behind the scenes here even whilst the county's church bells can't be rung. Progress with the 'Golden Bottle' simulator project at Felixstowe and application from Troston is heartening and should benefit SGR members in the long term. And whilst it seems there is still a lot of work to be done to convince ringers in some areas to get involved with video calls and online ringing platforms like Ringing Room, Ding and Handbell Stadium in order to keep bands together and change-ringing 'fit', it is encouraging to see that many are and that the intention is to get Guild-level ringing sessions going online.
There was a handbell peal, albeit far from our shores in Australia, but a notable one that might prompt Suffolk's ringers to remember that Friday will be the 125th anniversary of the first peal rung by a woman.
Whilst former St Mary-le-Tower ringer Gerry Bacon rang a quarter-peal on RR as he trebled to a 1296 of Beverley Surprise Minor, there was nothing on BellBoard indicating that ringers within our borders were ringing, but I'm sure many were.
Ruthie and I were doing our own bit of ringing on the platform for what is now the normal weekly online Pettistree practice, again following on from the entertaining appetiser of a Hilary Stearn quiz which this week was won by Chris & Mary Garner following a thrilling tie-break with Joanna Crowe! As Hilary later pointed out, we have come a long way with our virtual ringing, with the repertoire of Stedman Doubles, Cambridge Surprise Minor and Norwich Surprise Minor more in keeping with what we were ringing at the actual practice nights on the ground-floor six up until a year ago. Although we wouldn't have managed Grandsire Triples on them as we did tonight!
None of which one would expect to feature in Simon Linford's blog, but is definitely worthy of mention in mine!
Please post any comments on the
facebook page.
Top
Tuesday 9th February 2021
It is tempting to look ahead to next year. Once it was apparent that the rest of last year was going to be null and void, much of 2020 was spent thinking about doing things in 2021. Into its second month, it seems increasingly likely that the rest of this year too will be a write-off and so thoughts are naturally turning to 2022. God willing we won't be sitting here in twelve months writing 2022 off and looking ahead to 2023!
I noticed that the National Twelve-Bell Striking Contest Final at Guildford – already moved to next year to a date TBC – will be held on Saturday 25th June 2022 (although no announcement yet on whether the towers that were due to hold the eliminators this year including the Norman Tower will be lined up to hold them in thirteen months) and I came across a website for the Queen's Platinum Jubilee due to be held a few weeks earlier and all being well will offer ringing opportunities aplenty. And I even put some tentative feelers out for the use of one of Suffolk's peals of bells for a peal attempt or two for the Guild's Centenary Year.
There is stuff going on at the moment too. As has become the norm for the second Tuesday, this evening was spent following an Ipswich Town defeat in an empty stadium and the monthly College Youths' meeting online, where amongst a sadly lengthy obituaries section there were memories of Rothwell ringer David Kingman, someone who I remember from ringing when we visited our grandparents in Northamptonshire in my youth and who was an excellent ringer of tenors.
In the main the business was pretty rooted in the present, with a recent mysterious donation of £100 raising curiosity and progress on the consultation about online peals reported, but there were also instances of trying to plan ahead in what is another very uncertain year. Dickon Love said he has been approached by the City of London about the ringing of bells as part of the City's reopening, whenever that may be, whilst Secretary Simon Meyer warned that they may have to postpone the Country Meeting in Worcester – currently planned for 12th June – until 18th September, the Saturday of the Society's Peal Weekend, depending on how the rules and guidance evolve.
Making the most of what we have currently, many ringers were ringing online today (it was interesting to note that all yesterday's performances on BellBoard were online), including Tim Hart, who was again achieving on Ringing Room, ringing his first blows of Lessness Surprise Major in the 1280 of it. Well done again Tim!
Hopefully by next year he will be achieving on actual bells though!
Please post any comments on the
facebook page.
Top
Monday 8th February 2021
A couple of interesting news items of the CCCBR's website.
One is about how the Dove Bell Register has now become the primary store for bell and bell frame data in an agreement reached by the Central Council and the Church Buildings Council of the Church of England. It may all sound a bit dry, but it is a further indication of the strengthening relationship that the Council has formed with the C of E from a point where ringing was apparently not even mentioned when the reopening of churches was first being considered last year. Particular credit on this occasion have to go to Mark Regan, but also Chris Pickford and Dickon Love.
Meanwhile, the CCCBR are encouraging as many ringers as possible to fill in a survey from the University of York on behalf of the Church of England, Historic England, the Association of English Cathedrals, the National Churches Trust and the Historic Religious Buildings Alliance to get the thoughts, needs and insights of those who use churches as they look to plan – as much as anyone can currently – for the future post-pandemic. In keeping with the work done to bring the exercise into the thoughts of those making decisions for the C of E, it would be great to get a big response from ringers to ensure that it is a part of any recovery and considered when action is being taken moving forward. I've done my bit, let's make sure they know we're here!
Putting that into practice is some way off and so tonight we continued our efforts to keep our change-ringing brains sharp with a once familiar practice in a very of-the-time guise. Yesterday morning at our weekly Sunday catch-up with fellow St Mary-le-Tower ringers, a chance remark about Ringing Room prompted the suggestion that in the absence of being able to go to SMLT itself on a Monday evening for nearly a year and probably for the best part of a year to come at least, that we try an online session tonight. There was a slight disappointment at a low turnout, but in a sense that was understandable. There is wariness at starting out again in a new way in something that many of us have got pretty proficient with and for all that I have really got into RR after my own first reluctant forays into ringing on this platform, it isn't anywhere near as good as the real thing.
However, we had lots of fun tonight. Unlike mine and Ruthie's debut in the medium amongst almost an entire band of debutants that wasn't particularly satisfying for any of us (although also fun!), there was plenty of experience to help first-timer Chris Birkby tonight. Apart from our own modest efforts, Nathan and Julian Colman joined us fresh from their quarter-peal yesterday, along with their mother Cathy who has also been a regular at the open practices on Ringing Room. Meanwhile, David Stanford and Stephen Cheek have also had experience of ringing on the platform, whilst Colin Salter has rung four QPs on RR, including one of Orion Surprise Maximus.
Therefore, for all the hilarity elicited from mishaps that can often occur through online ringing, this was a decent start to what I hope will be a regular fixture, albeit with more present. Once we ascertained that Mr Birkby was actually very capable in a medium he'd never tried before, we managed plenty of Plain Bob Major, including a very decent course on handbells that I hasten to add didn't include me!
Whilst on the subject of Ringing Room, there is an opportunity for ringers of all ringing and technical abilities to give it a go or build on what they've already done, with a North-West District Practice planned for 10.30am on Saturday.
All being well, the aforementioned efforts to build a closer relationship with the Church of England will see us able to resume ringing sooner than if we were still off the radar. It would be fantastic if as many of us as possible were ready to dive back in with sharpened ringing brains!
Please post any comments on the
facebook page.
Top
Sunday 7th February 2021
This morning we were greeted by what has been dubbed the 'Beast from the East 2', a comparison with the 'Beast from the East' of three years ago. And it was very similar to the snowfall of 2018, laying deep, driving society indoors and children out as snowmen were built and snowballs thrown.
Of course, the Suffolk it fell upon today is very different to the world that it fell upon back then. Whereas the predecessor to today's 'Beast' saw major disruption to the normal order of things, with events called off, schools closed, offices shut, the ninety-fifth anniversary Guild Dinner postponed and on one day no peals rung anywhere, which was as extraordinary at the time as it is the norm now.
Now the normal order of things is what we were reduced to then. There are no events to call off, the schools are closed anyway, most of us are working from home now and no one should be travelling out to ringing.
Indeed, although vaccinations were disrupted for others, today panned out probably i n much the same way as if the white stuff hadn't fallen, only more fun with the boys enjoying getting out into the garden to play! Additionally, with all ringing online or in hand in households lucky enough to have the tools and ability under one roof, it was still a productive day of ringing. There was even a rare peal – only the sixth of 2021 and the first for almost a fortnight - as fourteen-year old Adam Turner rang his first peal in the 5040 on handbells in Cardiff.
Within our borders, well done to son and father Nathan & Julian Colman on ringing their first QP on Ringing Room and fellow Norman Tower ringer Tim Hart on his first in hand as conductor in the same 1260 of Plain Bob Minor.
Snow falling outside, we met with other St Mary-le-Tower ringers via video and Ruthie and I also managed some handbell ringing – although nothing worthy of mention on BellBoard – and we would probably have scored a RR quarter-peal of Cambridge Surprise Minor with our fellow Pettistree ringers this evening if it wasn't for my finger slipping at a bob which caused irreparable confusion four courses from the end after some very good ringing. It was such a minor action and on actual church bells it would've been easily sorted out, but I still felt very annoyed with myself. Nonetheless, the rest of the band were very kind. I suppose at least none of them had to travel through the snow to get there and back.
Please post any comments on the
facebook page.
Top
Saturday 6th February 2021
Ringing and ringers are going to need to get onboard with online ringing. Even with vaccinations being given at a phenomenal rate and seemingly doing everything and more that was expected of them, the general vibes being given appear to indicate that the hugely damaging yet most effective social distancing will be with us until at least September, with some experts even warning of it being around until (and even well into!) 2022. Therefore, even if we can resume the restricted ringing that we made do with last summer before the autumn, most change-ringing will likely be on platforms like Ding, Handbell Stadium and Ringing Room for a minimum of six months. If we want to give the art a fighting chance after a gap of eighteen months or two years, we will need as many ringers regularly engaged in change-ringing as possible and bar handbells (whenever eventually households can meet again to partake in that), for most that will have to be online.
Admirably, many seem to be holding weekly practices on RR, such as the bands of Bardwell, Debenham, Great Barton, Pettistree and Rushmere St Andrew to name just those I have heard of. However, as with in normal times, those bands are restricted by whatever their number there can manage. Normally, District and Guild events can help those willing to expand their experience in this limitless hobby as can quarters and peals, but without these, Ringing Room (which seems to be the predominant online ringing platform) can offer a place to do this. Indeed, it offers even greater flexibility, without the need to arrange bells or travel there, although I – and I imagine many others – long for the days when we can go out into our beautiful countryside to ring and socialise.
The main problem is that it is unfamiliar. It isn't the same as real ringing and it can feel very alien. Many newcomers – ourselves included just three or four months ago – relay the concentration needed to sit there and count painstakingly through the row. Ropesight in the same way as when ringing on church bells does improve with regular practice though, and as such I would encourage all members to do as much as they can on this flexible medium. If you are looking to get started on Ringing Room, see if your local band is willing and able to have a go. Failing that, ask around to find who you might be comfortable joining as a starter.
For those more familiar but perhaps currently just ringing with their local band and wanting to branch out, have a go on one of the open sessions advertised via the Ringing Room Take-Hold Lounge on Facebook. These are a friendly, accommodating bunch and generally large in number, which expands the boundaries of what you can try.
Then there is the Cast of 1000, the Central Council initiative to run sessions for those looking to progress in Treble Dodging Major, matching them up with a handful of more experienced ringers. This afternoon, I helped out with my second one of these, which was not only useful practice at the 'Core Seven' Surprise Major methods of Bristol, Cambridge, Cornwall, Lessness, London, Superlative and Yorkshire for a learner from Devon and another from the USA, but also a nice opportunity to catch-up with other ringing friends from beyond our borders, such as Sue Marsden and Philip and Liz Orme, the latter of whom ran proceedings excellently.
Pretty much straight afterwards, Ruthie and I joined another avenue of access to online ringing for Suffolk's ringers, as we participated in this month's South-East District meet-up that on this occasion saw the group split into two 'towers' – one for learners run by District Ringing Master Jenny Scase and one for those wanting to ring more 'advanced' stuff, run by District Chairman Mark Ogden. The former managed Plain Hunt on Six with Lesley Barrell ringing on RR for the first time, whilst in the latter we rang some Grandsire Triples, St Clement's College Bob Minor and Norwich Surprise Minor, the last piece of which was one of the best bits of online ringing I've rung in.
Either side Jenny and Mark imparted hopes for the months ahead, including talks, quizzes that take one on a virtual tour of the county, walks in the summer (if allowed) and more ringing, online of course. They also shared their thoughts on possible practices for Guild members aimed at Surprise Minor and Surprise Major. It'll be interesting if anything comes of it!
This afternoon's online ringing showed what is possible even when we can't ring church bells full-on. A variety of methods rung with a variety of people. It isn't as good as the real thing and given the choice between ringing in an ancient church tower in a picturesque location shoulder-to-shoulder with other ringers and sat in front of a laptop pushing buttons, I'll always choose the former without hesitation. We don't have a choice though and we won't for quite some time yet, so in the meantime I urge as many of you to use Ringing Room as possible.
Please post any comments on the
facebook page.
Top
Friday 5th February 2021
These are tough times for all of us, including children, whose education is being compromised with every passing day that they have to necessarily stay at home and who are missing out on precious times with friends. Lovely therefore that a video chat between Alfie and his classmates was arranged for them by their teacher today. There was much excited anticipation and although at times it seemed to heighten his sadness at not being able to be with his friends in person, he seemed happy to see them.
I have to admit to similar emotions. Not actually being with ringing friends – and especially not being able to ring with them – is very sad, but the regular virtual meet-ups with them are nice occasions. As was this evening's weekly Friday night drink with Simon Rudd and what has become a regular cohort of ringers from across the country. Great to hear an interesting insight about the impressive progress of Singapore's ringers – who are apparently pretty self-sufficient despite the disruption of the last year – from John Loveless and Linda Garton who join them via Ringing Room every week and an update on the bells of Troston, but also people who had appeared on Google Street View!
Meanwhile, this week's copy of The Ringing World arrived, jam-packed with content. That includes much mention of Suffolk, especially on the Keltek Trust's report. The Keltek Trust is an organisation that essentially finds homes for unwanted or unneeded bells. Or as BBC Radio Suffolk presenter Lesley Dolphin once said, "a dating site for bells"! Amongst the good work they did in 2020, they make mention of the projects at Combs, Fornham St Martin, Hitcham and Laxfield, whilst St Margaret's in Ipswich is given a shout out as the old treble went to Buckhorn Weston in Dorset to become the second of the 11cwt six and old third has gone to Whaley Bridge in Derbyshire. Additionally, our quarter-peal on Ringing Room a fortnight ago makes it into editor Will Bosworth's 'What's Hot on BellBoard' section, so thank you for all the likes!
It is little things like that helping us through these tough times.
Please post any comments on the
facebook page.
Top
Thursday 4th February 2021
More interesting reading via the 'What's New' section of the Suffolk Guild's website with the Trustees' Annual Report for 2020 added. It give an overview of how the SGR has coped with an extremely difficult year for the county's ringers, as it has been for the vast majority of the UK's population.
Additionally though, it points to the future, especially the projects to restore, rehang and augment rings of bells within our borders that will hopefully help recruit, train and progress members. Barham and Hitcham are completed, whilst Laxfield and Stowmarket are progressing and the report mentions Combs, Fornham St Martin, Hoxne, Troston, Framsden and Drinkstone are in the pipeline, which combined with the way technology like Ringing Room and Handbell Stadium could support teaching, ART and hopefully a pent-up demand to get back into our ringing chambers, will God willing offer exciting times ahead for ringing here.
For now though, although the report actually paints a surprisingly upbeat picture on the finances, funding for such projects, PR and training will be needed against potentially diminishing income. Many understandably have more pressing issues then paying a subscription to the Guild, whilst there haven't been any peal fees since March and there are unlikely to be any for at least a few months more. Therefore, if you are in a position where the £20 (less if you are in full-time education and in your seventies) sub won't cause you any hardship, then please do support the organisation and ideally as soon as you get the opportunity.
Some involved in the aforementioned projects may be interested in watching Buckinghamshire ringer Gordon Breeze's talk from last night to the St Martin's Guild on his research into bell tower dynamic motion at his local tower Wingrave, which I watched this evening on YouTube. Much like last week's presentation on mathematics in change-ringing some of it was a bit over my head, but as with Mark Davies then, Gordon's clear enthusiasm and expertise on this subject got me hooked and I found it an interesting hour and twenty minutes to wile the time away whilst Ruthie sang online with her choral colleagues elsewhere in the house.
I followed this up by joining tonight's open session on Ringing Room, which featured much from Grandsire Triples to Yorkshire Surprise Royal and then a touch of the 'standard' eight Surprise Major methods at 11.30pm, almost certainly the latest I have rung in some eight-spliced! I called it a night at that point, but many of those present from across the world – including Norman Tower ringer Nathan Colman – looked set to be ringing on, having already been going since 7.45pm. However, the beauty of these practices are that you can come and go as you wish and they are a friendly bunch who are willing – as they showed on this occasion with a newcomer – to ring whatever those present are comfortable with and give everyone a fair go. Additionally there are practices for those just starting out on the platform, so if you are looking to get used to RR or want to expand what you are doing currently on Ringing Room then look out for practices being advertised on the Ringing Room Take-Hold Lounge on Facebook or – if you aren't on FB – contact me and I'll be more than happy to impart details of forthcoming practices.
Some within our borders are taking advantage of RR, especially today, with Trevor Smith ringing his first touch of Plain Bob Triples, whilst in the 1320 of Cambridge Surprise Minor by a Suffolk band saw SGR Public Relations Officer Neal Dodge ring his first online quarter-peal. Well done Trevor and Neal!
Hopefully more and more Suffolk ringers will use platforms like Ringing Room, Ding and Handbell Stadium to keep their change-ringing skills sharp or even to improve them and next year's Trustees' Annual Report will be reporting on how well the Guild's members have taken to returning to full-on ringing!
Please post any comments on the
facebook page.
Top
Wednesday 3rd February 2021
Ringing Room today showed how it could still play an important part in the exercise even once we are allowed to resume full-on ringing on church bells, with a performance of 40 changes of Plain Bob Doubles rung on the platform from Singapore and Malaysia. The new twelve at the Cathedral in the former and the band being taught there were among the most notable projects in the art before coronavirus stopped change-ringing, but thanks to technology, teaching has clearly been possible even over the last few months of restricted travel, with Linda Garton and her husband John Loveless – who learnt to ring on the anti-clockwise Suffolk eight at Bures and is of course author of George Pipe's biography Shake my hand and I'll show you the ropes – overseeing today's achievements in the Far East from the comfort of their home in Bedfordshire!
As showcased by Marion Knight-Dixon and Trevor Smith with their participation in Erin Triples at the Bardwell practice (well done Marion and Trevor!), RR has already shown its worth in teaching learners and even completely new ringers to change-ringing since its introduction last year and whilst we're yet to see how easily those skills can be transferred to actual church bells, I see no reason why it can't be used to help with recruitment and training in the future, alongside efforts on simulators and on bells themselves.
Hopefully our limitless return to ringing chambers, the pub afterwards and all the other freedoms we once had will be all the sooner for the news of how well the Oxford-AstraZeneca vaccine seems to stop the transmission of the virus and that over ten million people in the UK have received their first jab, but for now life remains predominantly online.
This evening was the weekly video gathering with our fellow Pettistree ringers. Among our number are some who prefer not to do Ringing Room and so on a monthly basis we have a social, which tonight sort of substituted for our annual ringers dinner. Typically this would take place beneath the wonderful low ancient beams of The Greyhound, but as with every other pub in the country they are closed and of course we can't gather anyway. However, there was much hilarious playing around with backgrounds and Mary Garner imparted a few words, telling us that the louvres on the south side of the tower had been fixed. A staple of the event is the presenting of Mary's 'Monthly' Plate to a member of our group who has stood out for their efforts and/or contributions towards the band. Although it couldn't be physically passed from the current holder Mark Ogden, the deserving winner this year is Hilary Stearn. Her quizzes have kept us entertained for months and helped encourage us to keep coming back each Wednesday, including this week's which Alfie, Ruthie and myself won!
It has been a tough year since last year's dinner and I imagine there will be a few further difficult months before God willing we can meet for next year's, but hopefully Hilary's quizzes and Ringing Room can keep us going!
Please post any comments on the
facebook page.
Top
Tuesday 2nd February 2021
We aren't going anywhere ringing at the moment and probably won't be for a period likely measured in months rather than weeks, but when we do start – God willing this year – returning to travelling our beautiful county to ring at the many rings of bells of ancient buildings in picturesque locations we were once blessed to participate in the art at regularly, it would be nice to work towards doing it in a way better for the environment than just jumping in one's petrol or diesel car, especially as the art itself is pretty environmentally friendly.
Guild Chairman Rowan Wilson and Past Ringing Master of the SGR Jed Flatters have led by example in the past, often attending District events on the other side of Suffolk from their Bury St Edmunds base via train and bike and if you are a cyclist then that would be the most obvious way of getting to ringing without leaving a carbon footprint. However, whilst I quite like the idea of maybe one day cycling or walking to local ringing at places like Pettistree, Ufford, Woodbridge or even Hollesley, I can't envisage it being entirely practical with Ruthie and me trying to drag often reluctant children out with us! And I don't expect I am alone in not being overly keen to travel out on the cold, dark nights of this time of year on a bike!
Therefore, perhaps an electric car might be the way forward for the likes of us and others, a thought prompted (as was this entire theme) by a debate on BBC Radio Suffolk about the subject of electric cars, on in the background as I worked alone in my 'office' at home. That same debate highlighted the numbers of hurdles to making that practical, primarily the prohibitive costs for most people (ourselves included), range, time to charge and availability of charge points. Later I searched out a website mentioned on air that has a map of charge points and currently it shows how impractical it would be for ringers within our borders to jump into their electric cars and traverse Suffolk to ring. For us, it appears there are a handful of charging points in Melton, but then absolutely nothing east of us and a huge black hole of charging points to the north-west incorporating places like Ashbocking, Cretingham, Helmingham and Monewden where we might ring quarters, peals and for District events in normal times and indeed across this vast rural county it seems it is only the towns that mainly have charging points.
That said, most distances within our county would – I imagine – be within range of a charge-up and with the policy nationwide being that from 2030 only electric cars can be sold new, one assumes that range should become greater, the time to charge shorter and the number of charging points more in the coming years.
I'm not sure what tangible steps the Guild can take towards helping making travelling to ringing more environmentally friendly and so therefore it is going to need to be us as members to do what we can without taking out the travel that is not only a pleasure in its own right a lot of the time but is also vital in supporting bands who need physical numbers to help.
In the here and now the main news headline was the death of Captain Sir Tom Moore, who was remembered in a number of performances, whilst the main ringing headline was an impressive 1298 of Avon Delight Maximus in hand on Ringing Room, rung first thing today. Well done also to Norman Tower ringer Joan Garrett on ringing her first quarter-peal on Ringing Room with the 1280 of Cornwall Surprise Major. For us though, it was another day of home-schooling for Ruthie and the boys downstairs and John Catt Educational business for me upstairs.
Meanwhile, the agenda for the GMC meeting planned for Sunday gives an insight into how the SGR's business still continues, even in the absence of ringing on the county's church bells. Applications for grants, the St Edmund's Clapper Challenge, subs, the history of the Guild by the Salters, planning for ringing's return and a Service of Celebration for members who have died and not had a proper farewell due to restrictions are all amongst the items to be discussed. Also on there is confirmation that the plan is that the AGM will be held via video again, but on its traditional date on the Saturday after Easter, which this year is 10th April. There is much to consider, including a new Ringing Master, with Tom Scase's five year term ending. I have heard of one candidate, whose election would make a bit of history, but there may be others, which would be welcome I'm sure. Please do tune in – at least you won't be damaging the environment as much by going!
Please post any comments on the
facebook page.
Top
Monday 1st February 2021
As mentioned in CCCBR President Simon Linford's most recent blog, there is a noble scheme to help fund eBells for young ringers under the age of twenty-five, started by The Whiting Society whose sponsorship has already funded twenty-six pairs. However, their funds are understandably limited and so the Central Council and ART are now asking for donations to help purchase more. Apparently the subsidy for one pair is around £75, but any donations would be welcome and if you feel you can give to this worthy cause then please email lesley.belcher@bellringing.org and she'll point you in the right direction!
With the main focus of our evening being a somewhat farcical attempt to get our TV working which took nearly two hours, it is perhaps telling of current expectations that there was a spike of excitement to receive an email with links to another virtual event, which on this occasion was for our intention to join the Rambling Ringers on what would've been their annual dinner. It is actually part of a busy couple of Saturdays more akin to what they used to be like up until just under a year ago, albeit all in front of a computer screen of course, with a 'Cast of 1000' session booked in for me this Saturday immediately before we plan to join the South-East District Practice.
Whilst today was most exciting for us for what God willing lies ahead, for other ringers it was a day of ringing, even if pretty much all of it was online. Probably with eBells in many cases. If you can, please donate to help young ringers to do the same.
Please post any comments on the
facebook page.
Top
Sunday 31st January 2021
One month into 2021, God willing one month closer to freedom. Although reports saying that the necessary but soul-destroying policy of social distancing will have to remain for the rest of this year suggest that full-on ringing may not be on the cards until 2022, I pray that this is a worse-case scenario.
Still, we know that we will probably be living a predominantly virtual life for a few months yet and so Sundays like today are likely to be the norm, at least in the mornings where meeting with our fellow St Mary-le-Tower ringers via video offers us a gratefully received social outlet. Attendance continues to be in the twenties and largely upbeat, with things getting better at Alex Tatlow's hospital, word of university students going back and more reports of vaccinations amongst the assembled and other ringers, albeit all framed in a weary but understandably cautious mindset.
We did briefly manage some wholesome outdoor activity this afternoon, with a walk alongside the River Deben nearby (we are blessed to have this in our locality, especially in these times when we are largely restricted to our local areas), but come this evening we were back in front of a screen with those who in normal times we ring with at Pettistree. Having broken our duck last Sunday by scoring a 1440 of Kent Treble Bob Minor, we returned to Ringing Room to attempt a quarter-peal of Cambridge Surprise Minor. Unfortunately, it didn't quite go, but it did allow us a chance to practice some more afterwards and for Mike Cowling to do a bit of conducting, once he'd worked out which buttons to press! Very enjoyable and all the more so as we head into another month of restrictions.
It was interesting to hear from Annual Report Editor Mark Ogden about this year's difficult edition. This will probably be thinner this year, with much less ringing since the last one. Next year's Report might not be much thicker. Whilst still impressive in the circumstances, worldwide there were just 400 quarters rung this month, most of them online, whereas last January 1387 quarters were rung across the globe, 35 of them in Suffolk. Eight have been rung from within our borders this year, some partially. One of those was rung today, on RR of Doubles, which was Alex Brett-Holt's most methods to a QP. Well done Alex!
Meanwhile, peal-ringing has been particularly hard hit. Although between them a decent haul of 222 methods have been rung, just five performances of 5000 or more changes have been scored in the last thirty-one days, compared to the 354 successes across the corresponding period twelve months ago. And of course, whilst there were already nine in the medium on the Guild board by this point in 2020, there are none on it in 2021 thus far.
With the news today I wonder if there will be any at all this year.
Please post any comments on the
facebook page.
Top
Saturday 30th January 2021
Nice to have a video chat with my bother Chris and our mother Sally, an opportunity to sit and chat in a manner as close to naturally as is possible currently.
Likewise, precisely a week later at 4pm next Saturday, there will be a chance to meet other ringers and even ring in a way as close to normal as we can get at the moment, with the South-East District holding a monthly practice that will allow for socialising and ringing on Ringing Room. If you haven't already done so, please do consider having a go at RR. It isn't as good as the real thing, but we have found it great at keeping our change-ringing brains sharp and has satisfied our need to ring with others. More broadly too, it will hopefully help the art when full-on ringing does resume as the more ringers who have been actively ringing methods over what is likely to have been a near-eighteen month period without doing it on towerbells for most, the quicker the exercise will recover. There will be two 'towers' open, one for those experienced and one for those less so. This is open to Guild members of all Districts and if you didn't receive an email from SE District Secretary Abby Antrobus on Wednesday, then do contact her to find more details, including links.
Also trying to keep ringers connected in these times of necessary isolation is The Ringing World and we again received our weekly copy on behalf of the Pettistree band on a Saturday morning, giving us further interesting reading material for the start of a weekend. There isn't much Suffolk-related this week, with our only representation being an entry from Guild PR Officer Neal Dodge in the letters section, but I was again impressed at how much content appeared in the main journal of the art during a time when – other than during the Second World War – there can never have been less actual ringing going on!
And it gave me more stuff to talk to Chris and Mum about!
Please post any comments on the
facebook page.
Top
Friday 29th January 2021
According to a study, there is less exercise being taken and more TV being watched in this lockdown compared to the first lockdown. Hardly surprising of course. It is colder, the weather is nowhere near as pleasant (albeit today was actually quite bright at first) and although there is hope on the horizon due to vaccines (another one was announced this morning) and the strict and debilitating restrictions are in place for all the right reasons, there is an understandable weariness of our lack of freedom, better as that is to the alternative currently.
We are blessed at the moment in our circumstances to both have jobs, the family's health, space (even if sometimes it doesn't feel like it when the youngest boys are at their most boisterous!), handbells and a vast ringing family to meet up with via video and Ringing Room. Even in our household though, exercise is not as abundant as last spring and screen time is definitely up.
As such our day was once again dominated by activity looking at screens. Work sees me sat for hours on end looking at a computer. On iPlayer we've been watching The Night Manager this week (there's lots of stuff we've seen in recent months, years after they were big!) and in the process discovered that Tom Hiddleston – now a huge Hollywood actor and who plays the role of the protagonist in the series – is from the Vestey family, who are big supporters of the Guild, funding our mobile mini-ring and as Patron of the SGR George has wonderfully been very visible, coming along to the last two Guild striking competitions to speak.
Meanwhile, The Dig – a film about the famous archaeological dig at Sutton Hoo just a few minutes walk from our home – was released on Netflix today, prompting much publicity. Sadly it couldn't be accompanied by any of the fanfare and local buzz that might have seen the stars of the film Ralph 'Voldemort' Fiennes (I imagine massive Harry Potter fan Alfie would've been delighted to come across him on one of the bike rides and pub crawls he is purported to have taken locally as part of his preparation for the role) and Carey Mulligan across the River Deben from us, but the various news about its launch on BBC Radio Suffolk was a nice backdrop to my day's work. Nice as well to hear of the part that Charlie Haylock – who spoke at the Guild's 85th Anniversary Dinner in 2008 – played in ensuring the Suffolk accent was spot on, especially for Mr Fiennes, who was also interviewed by one-time ringer Lesley Dolphin.
Later, we took advantage of the network of friends ringing and non-ringing we have as we joined with Simon Rudd & friends for conversation on bikes, cravats and news of more ringers having the vaccination and then my uni chums where the topics were more headphone hoarding, children and pets.
There was also the joy of Mason arriving for the first weekend since he turned fourteen, thus meaning much opening of presents and cards, including a TV to play his computer games on. More screen time coming up...
Please post any comments on the
facebook page.
Top
Thursday 28th January 2021
I won't lie. It was a little over my head in a lot of places, but Tuesday night's talk by Mark B Davies (the man behind Methodoku which was another superb Christmas present) to the St Martin's Guild which I watched on YouTube this evening was still an interesting insight into a key aspect of change-ringing – mathematics. Mark is an enthusiastic speaker who drew me into an area where I lack expertise to the extent that he offers and I was amused by the notion that the likes of Fabian Stedman (unwittingly) discovered Group Theory a century before mathematicians, to the extent that early change-ringing is apparently of much interest to modern day studiers of maths! There was also a fascinating explanation of the maths Andrew Johnson used to work out the first ever bobs only peal of Stedman Triples and in his attempts to find a bobs only 5040 of Erin Triples, even if I didn't understand a lot of it! Many will though and whatever your level of maths, this is worth watching and like so many of the marvellous online talks that have kept ringers occupied and absorbed whilst we can't go into church towers to ring, it helps to show the many different aspects of the exercise that make it accessible to all sorts of people. As if to further highlight this, next Wednesday's presentation will be by Gordon Breeze on 'Bell Tower Dynamic Motion', whilst the following week's will be by Linda Garton on the story of ladies' peals.
It was part of an evening that was quite busy in a 2020/21 kind of way, with my mother Sally calling me back after I'd initially interrupted her as she chatted via video with other ringers who would in normal times be at Grundisburgh on a Thursday evening, whilst in the next room Ruthie was singing online with her Illuminati choral colleagues, all done without leaving the house.
As was the case for ringers across the UK today, with numerous performances rung on Handbell Stadium and Ringing Room, including Suffolk ringer Tim Hart who rang his first of Cambridge Surprise Major in the 1280 on the latter platform. Well done Tim on an achievement in something that I suspect Mark Davies in particular would have found mathematically interesting!
Please post any comments on the
facebook page.
Top
Wednesday 27th January 2021
Happy Birthday Mason. At fourteen, he continues through his teenage years with no signs yet of the stereotypical grumpy, disrespectful behaviour that teenage boys are perceived to display. Although he has revelled in not having to go out during the various lockdowns that have been the dominant feature since the last anniversary of his birth and thus he has spent much more time in his room playing computer games than we would wish, he has remained courteous and well-mannered and generally a very likeable young chap.
Of course, like Alfie and Joshua's most recent birthdays, I have sadly been unable to add to the collection of peals that I have built up for years for every single one of their birthdays until restrictions prevented me doing that (seeing as my skills on handbells simply aren't up to peal-ringing), but at least we were able to dedicate our quarter-peal on Sunday to my eldest's big day (keep 'liking' it!) and although I couldn't see him today due to current restrictions, I did have a good chat with him and imparted felicitations as he chomped down on his birthday pizza!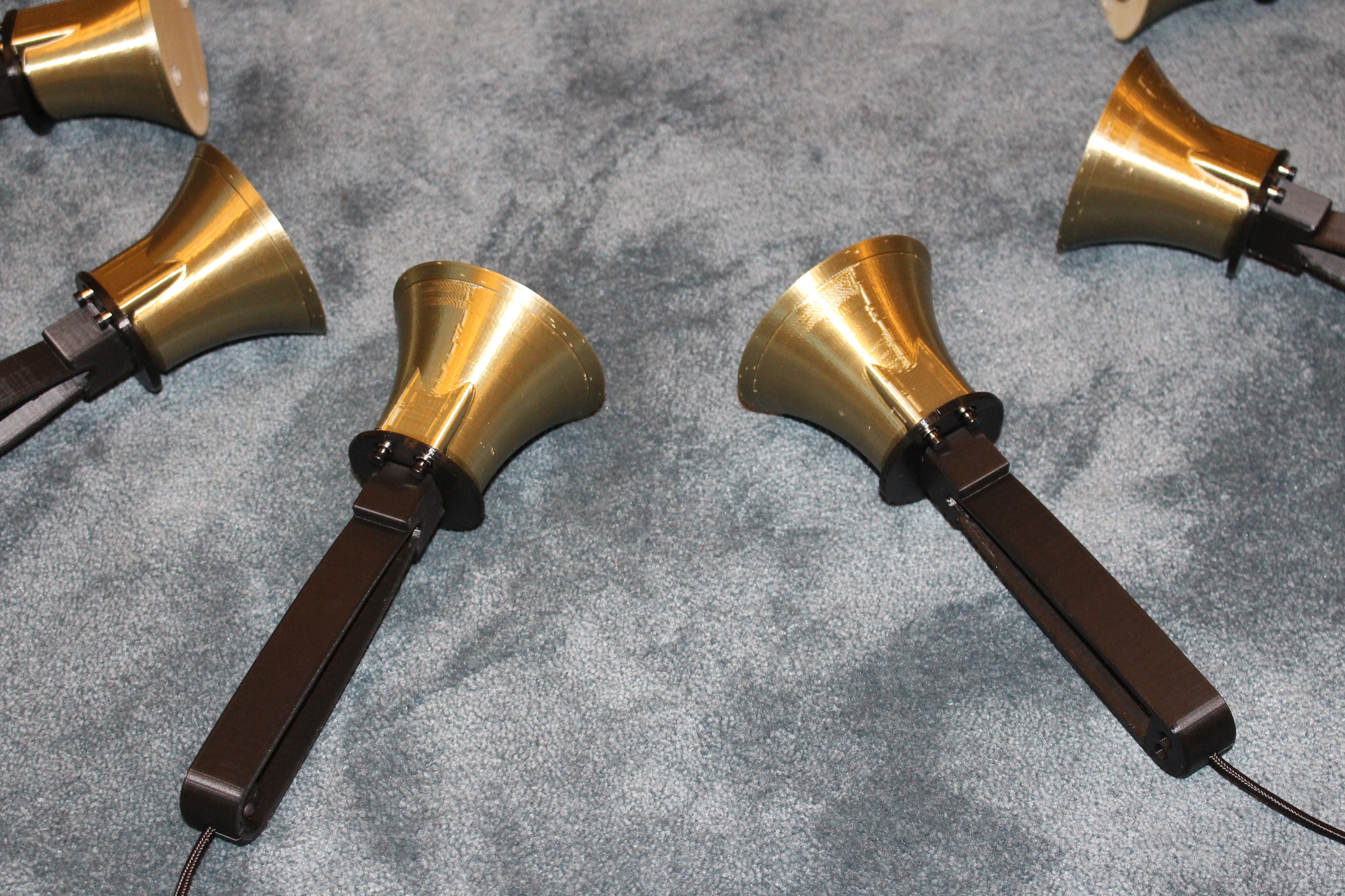 Meanwhile, CCCBR President Simon Linford's latest blog was released on the Central Council's website and makes brief mention of our Cast of 1000 session on Saturday afternoon, celebrates Past Ringing Master of St Mary-le-Tower Simon Rudd's extraordinary contribution to QP ringing on Ringing Room, encourages us to use online ringing platforms like RR and Ding to entice lapsed ringers back and talks about blind ringers and efforts to create a group for them and those who have taught them. He also importantly highlights The Whiting Society's sponsorship for ART to provide eBells (which Norman Tower ringer Tim Hart is involved in making) to ringers under twenty-five years old. If you know any young ringers in Suffolk that would benefit from this then please email lesley.belcher@bellringing.org.
Buoyed by our own aforementioned contribution to RR's catalogue of achievements, we rejoined our fellow participants from our 1440 on the platform for the weekly Pettistree practice. Following on from another quiz hosted by Hilary Stearn, it was a useful hour or so too, with Minor of the Cambridge & Norwich Surprise and Kent & Oxford Treble Bob variety and (much to Ruthie's disapproval!) Stedman Doubles.
As part of the wider online ringing community, all of this reflects the tremendous resourcefulness of ringers worldwide as we try to keep the art going during these times, but obviously we would prefer to be back ringing church bells, even though we can't for very good reasons. Therefore the news that the target is to start getting children returning to school on 8th March "at the earliest" not only offers a light at the end of the tunnel for millions of struggling parents like Ruthie but also gives a hoped-for timeline for everything returning gradually after that, including ringing. If experience from the last ten or eleven months of unpredictable twists and turns has taught us anything (the latest being that the Chelsea Flower Show that I reported was planning to go ahead in May was today postponed until September), then it is that we should take such ambitions with massive pinches of salt (and to be fair this announcement was framed with numerous caveats) and I shall be staggered if the 8th March does see pupils back where they desperately need to be in their seats of education, but so far it still fits in with my (almost certainly wildly optimistic!) guestimate that we will be back ringing in July! Again, keep an eye on ringing announcements from the CCCBR and Suffolk Guild (through Facebook, Twitter and this blog) and make sure Chris Garner has your up-to-date details for emailing important announcements and guidance to you.
Who knows where we might be by the fifteenth anniversary of his birth, but for today, Happy Fourteenth Birthday Mason!
Please post any comments on the
facebook page.
Top
Tuesday 26th January 2021
A tough day, with the boys unreceptive to homeschooling on a grey chilly day when the UK passed 100,000 Covid-related deaths since the start of the pandemic and there was yet another home defeat for Ipswich Town on a wet night.
Still, we cheered ourselves up by watching the amusing bellringing episode of Midsomer Murders - Ring Out Your Dead - and on further positive notes Suffolk ringers past and present were taking advantage of Ringing Room as Norman Tower ringer Tim Hart rang his first quarter-peal of Lincolnshire Surprise Major 'in hand', with Past Ringing Master at St Mary-le-Tower Simon Rudd (one of three rung by him on a typically busy day in the art for him), whilst Anne Brechin – who learnt to ring at Burgh, the ground-floor six rung from the porch -conducted a 1320 of Cambridge Surprise Minor from her current country of residence, Scotland. Meanwhile, it was pleasing to hear of the first peal in 2021 on church bells and a very impressive one at that, as a 5040 of fourteen Surprise Royal methods spliced was rung on the back ten of the 34cwt twelve of St Mary's Roman Catholic Cathedral in Sydney for Australia Day, with an admirably conciliatory footnote for an occasion that is apparently quite divisive. An incredible performance (although it pushes our efforts on Sunday down the leaderboard on BellBoard just as we were approaching the top five!) that I expect George Pipe would've found staggering in his early days ringing in the country!
It wasn't all doom and gloom today!

Please post any comments on the
facebook page.
Top
Monday 25th January 2021
Burns Night isn't an occasion that is particularly marked by ringing and ringers, although it was marked by three quarter-peals and a peal a year ago. Apart from a 120 of the appropriately-rung Caithness Place Minor rung on Ringing Room, there wasn't much to celebrate it this year either.
However, it offered forth a good excuse for some ringers to virtually meet with a Scottish theme, as we again joined former Halesworth ringer Maggie Ross and her other half and former fellow Birmingham ringer Tim Palmer, Norfolk ringers Neil & Nikki Thomas and one of my favourite ringing characters Graham Wright from Bishopstoke in Hampshire for a convivial and highly enjoyable evening. Whilst the rest of the assembled tucked into their vast whiskey collections, we – not really being whiskey drinkers – had a sip or two of Edinburgh gin as we exchanged various tales of lockdown, ringing trips to Scotland and Lundy Island and football without fans, amongst much else.
Meanwhile, our QP from yesterday is motoring up the leaderboard on BellBoard, so please feel free to 'like' it and make this a memorable Burns Night!
Please post any comments on the
facebook page.
Top
Sunday 24th January 2021
Hurrah! Never has a quarter-peal of Kent Treble Bob Minor been so celebrated in this household, but the 1440 we rang on Ringing Room with our fellow Pettistree ringers this evening felt a real achievement. And indeed it is, strange as it may seem to say about a band proficient in a multitude of Surprise Minor and Major methods. We have only been doing online ringing for three months, it still isn't as instinctive as ringing on towerbells and we have been building up to this for pretty much the entirety of that time, so the atmosphere afterwards was quite rightly euphoric!
It was a strangely slow attempt, with the first extent taking 39mins (4hrs33mins peal speed!) and the overall time was just 17mins shorter than my quickest peal (a 5040 of Doubles at the Wolery twelve years ago), nearly half-an-hour longer than the fastest ever peal (a handbell peal of Minimus from 2003, albeit non-compliant of the CCCBR rules of the time) and less than an hour quicker than the only peal of today! However, whilst that made it tougher on the concentration and fingers, it didn't really matter, as it was well-struck throughout and it did speed up as we got more confident. Lovely as well to be able to dedicate it to the fourteenth anniversary of Mason's birth on Wednesday, especially as I'm unable to ring a peal for the occasion as I would usually attempt, so my gratitude to the band for that. Congratulations also to Rushmere St Andrew ringers John & Linda Sager on the birth of their granddaughter, another happy event we noted in the footnote. And well done to all the band on their focused performance in a first for all of us, especially Mark Ogden on conducting it.
Our success topped off a productive, but busy (for us at least) weekend of RR, so I passed on the late night open practice on the platform and instead we watched St Mary-le-Tower ringer, South-East District Secretary and Guild Librarian Abby Antrobus' talk from yesterday about Bury St Edmunds and its Abbey (having missed it live as I was ringing), which is now available on YouTube and is a fascinating hour or so. I love history (especially local history) and it was great to hear an interesting subject being discussed by someone we know.
Earlier, Dr Antrobus was among a large crowd that joined us on the SMLT ringers' weekly Sunday morning video chat where we were also joined by Norman Tower ringer Julian Colman and – for the first time for a while – Diana Pipe on an upbeat chat helped by the increasing list of people known to the assembled gathering who have had their first vaccination, including a number of ringers.
God willing, it is another reason to celebrate!
Please post any comments on the
facebook page.
Top
Saturday 23rd January 2021
Like buses, two copies of The Ringing World arrived at ours this morning.
Having received the 15th January issue last week without any sign of the previous week's, I emailed the RW about the missing edition on Tuesday and just four days later the replacement copy dropped into our letterbox along with this week's!
It meant that there was plenty of reading material in our household, with more Suffolk-related content across both editions. Haverhill and Withersfield's ringing Priest-in-Charge Reverend Maximilian Drinkwater wrote the Thought for the week in the 8th January issue, whilst in the latest one Clopton Ringing Master David Stanford magnificently fills two pages amusingly recounting his life as a JOAT (Jack Of All Trades), Woodbridge ringer Bruce Wakefield gets a mention in What's Hot on BellBoard, a ladies' peal on the 9cwt six at Higham in the South-West District featuring Sylvia Bowyer (later to become Sylvia Pipe) appears in Linda Garton's latest excellent article on the subject and her husband John Loveless gave an update on sales of his biography of George Pipe, Shake my hand and I'll show you the ropes, expressing his gratitude to Guild officers Neal Dodge and Christine Knight, as well as very kindly myself. Those thanks for yours truly were for my plugging of the book through this blog and I'm more than happy to do so again. I loved reading it and whilst it might seem like everyone in the world of ringing has a copy, with 500+ sold worldwide (although of course one copy can serve more than one person, such as in our house), there must be many who haven't got a copy, a good number of whom would really enjoy it. Anyone who has met GWP and/or lives within our borders will find this fascinating on so many levels. And if you're looking for a present for someone's birthday, Burns Night or Valentine's Day (I know, what a romantic I am!), then look no further!
Also interesting to see the review by Michael Uphill of a book on another ringing superstar who learnt the art in our county, Harold Rogers. I didn't know Harold anywhere near as well as I did George, but I always felt speaking with him was a privilege which I enjoyed and was – and remain – in awe of his ringing exploits generally and particularly in his later years, especially in peal-ringing, with his eighty-five peals rung in his nineties a record. Three of those stood out, two of which were rung in his native Suffolk – the peal at Huntingfield in 2008 which he rang precisely seventy years on from his first peal (rung on the same bell!), the 5040 in 2009 which was the first on the restored and rehung ground-floor six of Chediston where he learnt to ring and the 5021 of Grandsire Caters at Isleworth – where he became synonymous with – where the age difference of eight-one years and fifty days between him and treble ringer Thomas Keech is very probably the biggest between two participants in a peal. I imagine the book is a fascinating read.
After a morning of reading and considering the printed word, the afternoon and evening were a return to the technological world we have become accustomed to.
First up was my most intensive ringing since ringing on church bells stopped ten, long months ago, as I made my debut in the Central Council's superb initiative Cast of 1000. These are sessions set up to enable those keen to progress their ringing in the 'Red Zone' with more experienced ringers so that they can get concerted practice in ringing that they wouldn't necessarily get in the normal course of things. Ultimately the plan is that there will be at least a thousand experienced ringers willing to help at such a practice once or twice a month in local towers with local ringers, but for now of course it is all being done on Ringing Room, which allows for ringers from across the country and indeed the world to ring together, as was the case on this occasion.
I was there primarily as a more experienced ringer, but having done only relatively limited ringing since March and still not being as comfortable on this otherwise wonderful medium as I am (or at least was!) on real towerbells, for me it was also an extremely useful hour-and-a-half of Surprise Major that included spliced taking in Cornwall and Lessness, all in the company of Simon Linford. Without wanting to start rumours, it is the first time a CCCBR President has been in my bedroom!
With the aforementioned circumstances, I don't mind admitting that I was slightly anxious that I didn't let anyone down, not least Nikki Thomas the Manager of the Mancroft Ringing Discovery Centre in Norwich who was slightly nervous at running one of these for the first time, but who did absolutely brilliantly. However, I also didn't want to want to let down those who had taken the time to attend, which numbered ten and included Ruth Suggett of Bardwell who did really well in a touch of spliced that included London.
This is something that I would encourage – indeed urge – as many Guild members as possible to get involved with. For all that it is a wonderful development that has helped keep ringing going in even the strictest of lockdowns, I am the first to admit that Ringing Room is nowhere near as good as the real thing, but in the absence of full-on ringing still likely several months off, this is as good a substitute as it is possible to get currently, for those of us not proficient in handbell ringing anyway. It is helping maintain change-ringing brain cells and this afternoon allowed those same brain cells to learn more at a time when otherwise there would be absolutely no method-ringing occurring at all, bar those lucky enough to have more than one handbell ringer in their household. More details are available on the CCCBR's website, but I simply emailed cast1000@cccbr.org.uk, was asked what I could ring and my level of experience on RR, filled in the form they sent in reply saying when I was available to ring and then received an email with a date to attend and even what methods were going to be rung. At the moment all the practices are on Saturdays at either 2.30pm or 6pm and last ninety minutes. Despite a lot of good work by many, there is naturally going to be a loss of a lot of ringers once we do return, but hopefully that will be minimised by initiatives like this and mean that we can hit the ground running once back on towerbells.
After such welcome intensity, my brain was grateful for a more relaxed evening as we caught up virtually with our friends Charlotte and Gregory for some drink and chat that took us into the early hours.
All the more impressive therefore that I found time to read two copies of The Ringing World!
Please post any comments on the
facebook page.
Top
Friday 22nd January 2021
Friday night virtual pub with Simon Rudd was a lively affair this evening as we celebrated Linda Garton's significant birthday complete with a video message from Barry of Eastenders fame! An occasion also celebrated with a couple of quarter-peals (1320 Cambridge Surprise Minor. 1312 Bristol Surprise Major) on Ringing Room too!
Meanwhile, there was more useful grant news from the CCCBR website today, with the announcement that grants of up to £10,000 are available "for the conservation of bells and bell frames in Anglican parish churches in England" from The Church of England, in partnership with The Pilgrim Trust, with a closing date of 22nd February for applications for a decision in May.
And there was good news too from Royston in Hertfordshire, where the 11cwt eight (now 12 cwt) were returned after being recast following the devastating fire just over two years ago.
Otherwise though, it was quite an ordinary day for the current times for us personally.
Thank goodness for Friday night's virtual pub then.
Please post any comments on the
facebook page.
Top
Thursday 21st January 2021
On a day more akin to the despair of 2020 than the hope of a better future in 2021, this January Thursday was one largely dominated by the cancellation for the second year running of two big events planned for the last weekend of June.
One was Glastonbury, the other was the National Twelve-Bell Striking Contest Final.
Both are now due to take place in June 2022, with the latter pencilled in to be held by Guildford who were lined up for this year's showpiece ringing event, although there may yet be a twelve-bell event held on Saturday 2nd October 2021 at a venue to be confirmed. No word yet on whether the venues that were to hold the eliminators in two months – but which were cancelled last month – will get the opportunity to try again in March next year, including The Norman Tower.
For all the expectation for this year, it is another blow, albeit far from unexpected and with some of those advising the government today saying that hospitality shouldn't reopen before May, it seems unlikely that anything resembling full-on ringing will be happening before the summer.
That said, it was also imparted today that more than five million people in the UK have already been given at least their first vaccination and locally the Maverick Festival at Easton Farm Park announced with relative confidence that they plan to hold this year's festival on the first weekend of September (later than normal), suggesting that my total guestimate of ringing resuming much more meaningfully in July is still just about possible and that God willing we ought to be able to hold big ringing events in the autumn at least. As with everything over the last ten months though, much could change, so keeping watching out for announcements nationally and locally, imminently and/or in the coming weeks!
For now though, I shall endeavour to continue enjoying the many fascinating online talks, including the Wednesday night ones from the St Martin's Guild. This evening I watched last night's talk by Chris Pickford on the history of John Taylor & Co on YouTube whilst Ruthie met with the Illuminati choir virtually in the next room. There are few if any – bar perhaps George Dawson – with a greater knowledge of bell history than Chris, although it was nice that the late Ranald Clouston from Suffolk – who also had a staggering knowledge on the subject – also got a mention. Well worth a watch.
However, for all that many have embraced technology since we were first thrust into lockdown at the end of last winter, many have been unable and understandably unwilling to, including members of the Guild. I know of other members who have kept them in the loop via phone – and when we were allowed – visits, but it is a pity that we no longer have the excellent Awl a'huld, the SGR Magazine that ran from 2010-2017. Especially as it would have been a good example to put forward for the CCCBR's new initiative, Newsletter Showcase. Are there any ringing newsletters at a more local or District level that we can showcase from within our borders?
After all, on a day when the best bit of news I can report on this blog today was the delivery of our new dishwasher exactly six months on from our old one ceasing to work, it would be great to hear of newsletters round here delivering even better news than more cancellations!
Please post any comments on the
facebook page.
Top
Wednesday 20th January 2021
As mentioned in yesterday's blog, there are a number of projects in the county to restore and/or augment ongoing or recently completed, considerably helped by the Suffolk Guild's carefully considered but generous grants. With 50% of the subscriptions – which were due on New Year's Day to jog people's memories – going towards the Bell Restoration Fund, it sometimes raises eyebrows with the perception that it is expensive compared to subs for comparable associations, guilds and societies (although it is worth noting that £20 for a year's worth of support for a Guild that in turn offers so much support to ringers and towers is pretty affordable in the scheme of things), but it allows the Guild to financially contribute to projects that can be great publicity and often help with a recruitment to and progress in the local area, as has been seen so many times in recent years.
However, that sort of support – rightly or wrongly – isn't always available in other ringing organisations, so I imagine that the announcement that the Central Council are inviting applications for grants from their BRF is very welcome to many looking to get projects going, especially in these times when usual donors may not be able to due to the current difficult times.
It has all been made possible by a generous legacy from John Barnes, a member of their Bell Restoration Committee for many years and who – also in keeping with yesterday's blog – I was privileged to chat with at length at the celebration of the completion of the project at St Margaret's in Ipswich nearly three years ago and for all the generosity of the SGR BRF, I'm sure those looking for funding for current or future projects within our borders will be interested in this fund. Applications need to be made by the end of next month and forms are available from Ian Oram on funds@cccbr.org.uk.
God willing ringing and peal-ringing on bells benefitting from the fund will be possible in the future, but right now it is only possible on handbells with bands from the same household or online, such as the performance of Alan Reading's 5088 of twelve Major methods spliced which was rung 'in hand' for the first time when it was scored on Ringing Room in another very early start, as is the norm for such successes! Additionally, it is well worth watching the accompanying video of some of the superb ringing.
My own attempts on RR this evening weren't anywhere near the same standard, but I was fairly pleased with them on a busy evening of ringing on the platform. Having won Hilary Stearn's latest quiz beforehand, we got going on the Pettistree practice where the ringing wasn't quite as good as last week, but still saw some Norwich Surprise Minor rung and Mike Cowling, Mark Ogden and Ruthie do a spot of 'handbell' ringing.
After that, I stayed on Ringing Room for the open session with ringers from around the country where – having started with a super course of Norfolk Surprise Minor after a few attempts foiled by technical issues - I got some more Project Pickled Egg in, with some Cornwall and Lessness Surprise Major. At over four hours there is a pleasing fluidity about these, as I briefly saw fellow Rambling Ringer Phil Wild at the beginning and then got to ring with Norman Tower ringer Cath Colman before I eventually signed off at 11pm, the practice still going strong, even if I wasn't!
Hopefully it'll keep us sharp enough to ring those bells that the Guild has generously contributed towards.
Please post any comments on the
facebook page.
Top
Tuesday 19th January 2021
One of the features of working from home during the lockdown was listening to BBC Radio Suffolk for some passive companionship whilst Ruthie busied herself schooling the children downstairs and over those three months or so hearing a number of ringers appearing on the airwaves. A couple of weeks into this period of homeworking I hadn't heard any until 3hrs 11mins into Mark Murphy's Breakfast Show when Hollesley ringer James Mallinder was being interviewed about food waste in his role as Cabinet Member for the Environment and Chair of the Suffolk Waste Partnership. Ringing wasn't mentioned (nor would it have any relevance bar how ringers' teas usually avoid too much food waste!), but again it was nice to hear the voice of another ringer!
Meanwhile, it was also fascinating to read an article added to the website yesterday written by John Girt and David Evans on the project to restore and rehang the eight of St Margaret's in Ipswich, which also includes photos and videos of the last ringing on the bells before their removal and three of them were recast, the task of removing them, a visit to Nicholson's, their installation and the new ringing, as well as linking you to an extensive page on the church's website that has additional photos and information. It all highlights the immense visual and audible changes at a venue that is very special to me and my brother Chris as it was where our Grandad Jack rang for much of his life and where a lot of our early eight-bell ringing was done. Nice as well that the video of the final ringing shows our father Alan ringing the sixth and Delia Hammerton – who also sadly died last year – ringing the third. It all brought back many happy memories of ringing in the old cramped room, although also reminds me what a wonderful job has been carried out here and what a vast improvement they are now!
Additionally, it is a reminder that there are many projects newly completed or in progress that God willing we will have the opportunity to ring on in the not-too-distant-future, maybe even later this year in some cases. Places like Barham, Combs, Fornham St Martin, Hitcham, Laxfield and Stowmarket. Perhaps these will appear in the news (some already have!) in the coming months and we'll be hearing more voices of ringers on the airwaves.!
Please post any comments on the
facebook page.
Top
Monday 18th January 2021
Blue Monday. That's what today is apparently, always on the third Monday of January because – so the reasoning goes – many people haven't been paid for a couple of weeks and it is still another fortnight or so until the next payday, we're in the depth of the cold, dark winter, yet now without the anticipation of Christmas and at the start of the working week. This year of course, it might be considered the bluest of Blue Mondays.
Although there is something intrinsically depressing about a Monday in mid-January, it is generally nonsense with no basis in scientific research, but seemingly originating from an advertising campaign from a travel firm to get folk thinking about booking their summer holidays. However, it did get me trying to frame my day in as cheerful a way as possible and consider how even in these tough times how blessed we are.
The children can't go to school and Ruthie can't go to work, but the latter has at least allowed my wife to teach the boys and at least we both still have jobs. We can't see family and friends in person, but technology has allowed us to keep in touch easily with them. Indeed, it is easier than it was before lockdown first became a thing in the UK.
And yes, we are missing ringing and personally life won't be back to anything like normal until we are allowed to freely go to ringing chambers whenever we like with as many people as we like for as long as we like, but we are lucky to live in a household sporting a brace of handbell ringers that has allowed us to do a bit in hand and we've got on alright with Ringing Room.
Not that we did anything ringing-related this evening on what is now a pleasingly rare evening without any live interaction with other ringers, but I did come across the newsletter of the Eastern Branch of the Norwich Diocesan Association, The Striking Example. Partly because – in common with many others in our Guild – I have friends in that part of the world, but also because I have a fondness for a lovely area that includes towers in stunning locations such as Happisburgh and of course a handful from Suffolk. Interesting to note that they have vacancies in certain roles such ass Secretary and Ringing Master, which less reflects badly on them (even when not in the circumstances we are in, filling some roles is an eternal struggle for most rural ringing organisations) than it reflects well on our Districts for managing to consistently fill such roles.
Another reason to feel cheerful on this Blue Monday!
Please post any comments on the
facebook page.
Top
Sunday 17th January 2021
Modern day ringing frustrations.
This evening, we went for another attempt at a quarter-peal of Kent Treble Bob Minor on Ringing Room with some of our fellow Pettistree ringers. When we rang a 720 recently, it was called round at that point because there were signs we were flagging. As we approached the end of the extent tonight though, there was no indication of a similar fate. The speed was relatively stately, but the striking good, with the standard retained throughout. Until an internet spasm of some sort for one of the band brought our efforts to an end.
Still, it was all useful practice and great for the brain, allowed us the chance to chat a bit more afterwards and gave us the opportunity to watch today's new episode of Antiques Roadshow. This was the one filmed in Ipswich's Christchurch Park in September. Cue lots of drone footage of the Mansion and the green in front of it, a space that I used to look out over whenever I went ringing on the eight at St Margaret's – which also features regularly in the show - next door in the old ringing chamber further up the tower. And more recently it was where St Mary-le-Tower's ringers gathered on Sabbath mornings throughout the summer when ringing resumed in its restricted form and we were allowed to gather together outside afterwards. Except for the Sunday before filming when the area was already cordoned off in readiness for the arrival of the programme's presenter Fiona Bruce, their team of experts and crew on the following Tuesday.
We all know such gatherings are not permitted at the moment inside or outdoors and so this morning we did so as we have done for the last few weeks. There was a large crowd that was in a generally upbeat mood (including a report on how Adrian 'Arnie' Knights is getting on and his cheese and biscuit eating exploits!) which helped set us off on a mild sunny day that encouraged us all – including a usually reluctant teenage Mason – to go out for a walk (locally of course!) through the woods.
Meanwhile, do take the time to read the draft minutes of the Guild AGM and October's GMC meeting, especially if you weren't present. Not very exciting granted, but they're not meant to be and in these times when we haven't been able to get out and about with our fellow ringers in the county's towers, they are an important way of keeping in touch.
Amongst those minutes, there was reluctance to commit to this year's AGM being held in person on 10th April and the news today seems to validate that caution. The main headline is that the plan is for every adult in the UK to be offered their first dose of the vaccine by September and whilst we're all extremely cautious in believing such predictions, if it all goes to plan it at least gives us a timeline of sorts. Exactly where ringing's full resumption fits into that is naturally unclear given its niche nature. However, although our art is always likely to be one of the last activities to have restrictions lifted, having (entirely by luck) successfully guesstimated last year's return to the exercise, my cautious hope (again based on nothing more than my gut feeling) is for July by which point I pray the risk may be reduced to something that is comparable to just about every other virus, illness and disease that already exists, but of course I just don't know. That would mean that events like the AGM are likely to be moved to later in the year, but as we are now familiar with, much is likely to change in the meantime and so I imagine the Guild's officers are sensibly waiting for the situation to clarify to confirm what will be happening with our showpiece event and Striking Competitions. Therefore, keep a close eye on this website, the SGR's Facebook page and Twitter feed and if you haven't received any emails from the Guild or your District in the last few months, then please check with Chris Garner that you are on his email list for the purposes of sending news and important information out to members and that he has your correct details. Those details would not be shared with anyone else.
Further afield, as disappointed as we were with our loss on RR, it was nothing compared to that which must have been felt by the band who lost a peal of spliced Major in the penultimate lead today on the same platform due to a power cut!
Modern day ringing frustrations indeed.
Please post any comments on the
facebook page.
Top
Saturday 16th January 2021
For a while now we've been anticipating snow and The Ringing World. This morning, we got both.
The former saw the boys briefly outside throwing snowballs at our window and of course had less of an effect on ringing plans today then it normally would. Indeed, it probably had no effect whatsoever, with most ringing being done online and the rest made up of handbell ringing involving people from the same support bubble. It even allowed for just the second peal anywhere this year and first of Minor with the 5040 of Plain Bob in hand at Great Longstone in Derbyshire.
Also featuring today, was 80 changes of Minimus on handbells in Woodbridge, rung by the Wakefields to celebrate Bruce's eightieth birthday. What a pity that more can't be done for a man who was Suffolk Guild Secretary for ten years from 1989-1999, as well as my predecessor as Public Relations Officer and a great help in that role when I was SGR Ringing Master. Additionally he was on the Belfry Advisory Committee and has led ringing on the 25cwt eight in their town of residence for many years, not an entirely easy task on the heavy octave with a lengthy draft and at the top of a long staircase, although the climb is worth it, particularly for the view from the tenor box which in my humble opinion is the finest from any bellrope in the county! Happy Birthday Bruce, I hope you had as good a birthday as one can at the moment.
Meanwhile, the arrival of the RW was welcome, but actually earlier than most copies that we have received since we began taking delivery of them on behalf of the Pettistree band, as it was the 15th January edition. Still no sign of the 8th January edition though! Still, it was another interesting read, with plenty of stuff I hadn't seen on the internet, plus a mention for local ringer Mike Cowling in the 'What's Hot on BellBoard' section.
Mind you, I only really got to have a quick read of it as in the circumstances it was a fairly busy day, predominantly during daylight with the setting up of and then participation in a Gruffalo party (or as much of a party as one can have with just people from your house) as the climax of Joshua's school project this week, but then this evening with another quiz on video, this time with good friends Kala & Nick and Toby & Amy that of course Ruthie won. This is a monthly pleasure that on this occasion saw questions on subjects from famous people known by different names to what they were born with, to windows & doors!
Along with maybe more snow and that missing copy of The Ringing World, we wait in hopeful anticipation for next month's get-together.
Please post any comments on the
facebook page.
Top
Friday 15th January 2021
Wikipedia is twenty years old today apparently. It is a treasure trove of information - even if in some cases the accuracy of that information can be considered dubious – and features pages and pages on change-ringing. And that includes a page on the Suffolk Guild, a superb addition to the SGR's presence in public, set up by our PR Officer Neal Dodge!
There wasn't much to add to it today though, although it might be interesting to look back in the future on this time and how technology may have helped the Guild's survival, as it continues to help its members stay connected and ringing together. Although we didn't do any of the ringing element, we were staying connected with other ringers, including fellow Guild members, as we joined Simon Rudd at his weekly virtual pub, where John Loveless regaled us of his click and collect adventures and Gareth Davies explained how many kilometres it took him to ring a quarter-peal on Mobel!
Not to be confused with the various other Gareth Davies' on Wikipedia.
Please post any comments on the
facebook page.
Top
Thursday 14th January 2021
2023 seems a long way away, as indeed does anything that doesn't just involve sitting at home and/or avoiding other people! However, providing we all make it, I imagine it'll be here before we know it and the centenary of the Suffolk Guild will be upon us.
As I understand it, plans are already well underway for the big anniversary dinner, which hopefully will be allowed to be a memorable occasion shared with as many SGR members as possible. This evening though, I found myself laying the foundations for doing something to mark this special year myself. It is all extremely embryonic and may not come to anything, but it is still nice to even contemplate organising 'proper' ringing!
In the here and now, some of the county's ringers were doing ringing in the only style available to most, as a North-West District band rang their first quarter-peal of Moomintroll Bob Minor in the 1440 on Ringing Room. Well done to them all!
Such news was most welcome, on a day that was ordinary even by current standards, with me working upstairs and Ruthie trying to teach the boys in often trying circumstances downstairs.
God willing 2023 will be much more enjoyable though!
Please post any comments on the
facebook page.
Top
Wednesday 13th January 2020
In the most optimistic estimates we might be fully ringing – or something more like fully ringing – after Easter, but it is much more likely to be the summer and quite possibly the autumn. It is better than the prognosis of even just a few months ago when there was no end in sight and although every new variant (the one from Brazil is the latest one) makes people twitchy, God willing the vaccines impressively developed in a short period of time will hopefully mean we will be ringing shoulder-to-shoulder in the various ringing chambers of our beautiful county later this year. However, that still means probably at best another three or four months without 'proper' ringing and potentially the next two or three months will proceed without ringers being able to meet in person to even ring handbells together.
Therefore, online resources are going to be extremely important, such as Tower Talk (edited by Bardwell ringer Ruth Suggett), the Survival & Recovery Newsletter and CCCBR President Simon Linford's blog. Between them they show what is being and can be done by bands to keep together and individual ringers to continue progressing and give themselves the best possible chance to come out the other end in – or near – the same position as when we entered restrictions almost a year ago. Maybe even in a better position!
All three highlight activities that ringers can participate in even in these darkest of times, such as the photography competition that Simon mentions in his blog put on the Central Council's website today. Along the same lines as the YouTube competition they held last year, it may be something that Suffolk's ringers could be successful in as Norman Tower ringer Tim Hart was in last year's competition. Time for the likes of Mike Whitby to shine perhaps!
Pettistree's ringers are doing their best to keep connected and keep 'ringing fit' and indeed judging by tonight's Ringing Room practice we are doing very well at it. Joined by Mike Cowling who had already been doing some cross-country handbell ringing with his brother, a 120 of Grandsire Doubles rung as if on a 40cwt six but very well struck started a session that also saw Cambridge Surprise Minor, London Surprise Minor and Oxford Treble Bob Minor rung well, the latter two for the first time since we began ringing on this platform. All the more impressive for there only being eight virtually present and confidence is certainly growing, with Norwich Surprise Minor and Cambridge-variants Ipswich (without the half-lead dodge), Primrose (without the lead-end dodge) and Norfolk (without either dodge) Surprise Minor mooted for next week.
Beforehand, we were again treated to one of Hilary Stearn's entertaining and informative quizzes, which we again won! These are very enjoyable, which is lucky, as we may be doing them for a while yet!
Please post any comments on the
facebook page.
Top
Tuesday 12th January 2021
Postal delays were in the news today, with unsurprisingly the rapid spread of coronavirus cases the main reason, with many postal workers off ill or isolating. It means that we still haven't received the Pettistree copy of The Ringing World which we are taking delivery of and which has typically arrived at the beginning of the week after it was printed at the latest.
No such issues online of course, where we joined other ringers from the aforementioned ground-floor six for a virtual quiz against Stowmarket's ringers, with Adrian Edwards superbly hosting proceedings with questions on bells & towers and food & drink. With each round, the competing towers were sent off to separate 'breakout rooms' with a copy of the questions, where we were able to confer without being overheard and I have to say it worked very well, even though our friends from the west of Suffolk won, in part due to their greater knowledge on large champagne bottles! Well done Stowmarket! Perhaps it is the first of more and if that is the case I certainly wouldn't object after a very enjoyable hour or so.
It even finished in time for me to join the first monthly meeting of The Ancient Society of College Youths for 2021, one which was pretty much dominated by an in-depth debate on whether the Society should accept peals not rung on actual bells – such as on Handbell Stadium or Ringing Room – with a view to voting on a motion on the subject. Lengthy pleas – mainly against the proposal that they shouldn't count in the Society's records – were made by the likes of Philip Earis, Phillip Barnes and Central Council President Simon Linford, before it was agreed more thought needed to be given to the matter. Largely those speaking both out loud and in the chatbox seemed most concerned that it might be rash and appear backward-thinking to simply dismiss such performances, although the proposer John Hughes-D'Aeth and seconder Philip Rogers were at pains to point out that they weren't seeking to diminish the achievements on the likes of HS and RR, but rather didn't think that they should be counted as peals as they weren't rung on bells. This all contributed to Ringing Master Swaz Apter having to check we all wanted to continue past 10pm, but again I was pleased to be a part of something that wasn't possible much of the time before it moved online.
And at least I didn't have to wait for it to arrive in the post!
Please post any comments on the
facebook page.
Top
Monday 11th January 2021
Even though peals are thin on the ground, Pealbase continues to be a fascinating resource.
There is now a vast list of topics to explore on the site, with one that has particularly caught my eye being County Champions, a section that lists the ringers who have rung peals at the most towers in each different county. Naturally my attention was drawn to the counties of East Anglia and particularly Suffolk and unsurprisingly ringers from within our borders feature prominently. Readers will be not be staggered to know that twice Past Guild Ringing Master David Salter comes high on the lists of our county and those that border onto it, as do Jeremy Spiller and Alan Mayle. St Mary-le-Tower band member Ian Culham tops the table in Essex with 141 towers.
In Suffolk itself, David leads on 202, just two towers ahead of his wife Katharine, whilst having rung at seventy-four towers within our borders, I share forty-eighth place with Mary Garner, Jonathan Stevens and another two Past SGR Ringing Masters Lawrence Pizzey and Amanda Richmond, Ruthie comes in at a respectable (considering she hasn't rung a peal for over six years) joint eighty-fifth place on fifty-four towers, while current Guild Peal Secretary Christine Knight and Ringing Master Tom Scase will be keen to get their hundredth tower in the county under their belts once peal-ringing on towerbells in the UK resumes, with both of them currently sitting on ninety-nine towers!
An email to its owner Andrew Craddock – who spoke superbly at the Guild's 90th Anniversary Dinner in 2013 – also got an impressively quick answer to a query that has been prodding me in recent days. In the first few days of each January I often look out for the first peal of the new year by the Suffolk Guild. Sometimes that comes on day one, but naturally from an organisation that would typically ring around a hundred peals a year, it sometimes comes a few days in. Of course this year it is likely to be even later than that, although we're still to get to the latest date of a year's first peal in 'normal', non-war years, which was the 21st January in 1955 and 1967 and some way off usurping the record set in the famously bad winter of the first few months of 1963 when the SGR took until 23rd February to notch its first score in the medium.
However, many of you will probably have noticed that until today's impressive 5040 of 145 Minimus methods by Gail and Matthew Lawrence in Shropshire, there hadn't been a single peal rung anywhere in the world. By this date last year, 123 had already been rung. I wondered therefore when was the latest date in a year that the first peal of the new calendar was. Sending Andrew an email yesterday, I assumed that perhaps during the war when the ringing of church bells was banned that the first peal of the year was maybe quite a way in. Very kindly replying within a couple of hours, Andrew imparted that since 1931 (which is as far back as he has complete/near complete data), only three years before this one didn't see any peals rung on New Year's Day – 1941, 1942 and 1961, with the middle year featuring the latest debut peal, coming in at 5th January. Thank you Andrew for that info.
Meanwhile, it was interesting to hear Lesley Dolphin's 'sofa' guest (although like everything else it was being done remotely) on her BBC Radio Suffolk show Claire Horne (just after an hour-and-a-half in), a recognisable voice to regular listeners to the station as she offers advice on it's gardening hour every now and again on a Saturday morning. Ever so briefly she mentioned how much she was missing bellringing. Nothing more was mentioned about it and so I'm unsure to what extent she does it or where, as she doesn't seem to appear on BellBoard anywhere, but it is nice to hear of another 'celebrity' ringer, especially one within our midst!
She may have to wait a while to appear on Pealbase though.
Please post any comments on the
facebook page.
Top
Sunday 10th January 2021
Another day in lockdown, another day of painting, although it has to be said it was only Ruthie doing it today as I held the paint tray whilst she did the high bits, whilst I wasn't making the tea, doing the washing up and attending to the children's delightful whims, the latter of which my wife has to do all through the week at the moment.
The decorating was sandwiched between some more virtual meeting.
First up was the weekly Sunday morning cuppa with our fellow St Mary-le-Tower ringers where the chat was generally upbeat as Stephen Cheek showed off his new haircut and Amanda Richmond thought David Sparling was calling her 'smelly' when he greeted my mother Sally! It is good that folk are keeping their chin up as of course these sometimes awkward meetings will likely be the norm for at least a few weeks and we were reminded why, with the news that a couple of our ringers are having to isolate because of positive cases in the family of one them (and we are also aware of another local ringer who has tested positive themselves) and Dr Tatlow's latest grim update of the situation at his hospital.
Later in the day then, it was time for the first ever Munnings family video call, as my brother Chris and his wife Becky joined us to chat with Mum. It is reassuring that we have this new avenue of communication with her as we aim to reduce risks and yet make sure she isn't abandoned and this afternoon's hour-long catch-up was almost like old times, even if almost every aspect of the conversation was inescapably framed by the current circumstances. Nice as well that in addition to joining the SMLT virtual get-togethers that she is also meeting with Debenham and Offton ringers online.
Elsewhere in the county, they were also online, as a quarter-peal of Primrose Surprise Minor was rung by members of the North-West District on Ringing Room and I was on there myself this evening for another open practice whilst Mrs Munnings played Call of Duty opposite me. There was a big crowd on this occasion, some of whom were fresh from a 1296 of Little Bob Royal on the platform, but also including Norman Tower ringer Cathy Colman and then later her son Nathan. Such a large attendance not only meant that we were split into two 'towers' to make numbers more manageable and allow those present more opportunities, but saw an eclectic range of methods rung, such as Norwich Surprise Minor, Stedman Triples, Cambridge Surprise Major, Superlative Surprise Major, the standard eight Surprise Major methods spliced, Erin Caters and even Yorkshire Surprise Royal, my first Surprise Royal for ten months.
I was well chuffed with my efforts, as Ruthie was with hers on Call of Duty at the same time and her painting earlier!
Please post any comments on the
facebook page.
Top
Saturday 9th January 2021
We went to St Mary Mead. Where and how, you may ask.
Many fans of Miss Marple will know that it is most famous as being the fictional village that the make-believe murder-solving spinster lives in, but this morning it was the name of the Ringing Room that Ruthie and I were ringing in with members of the North-West District for their virtual practice that they very kindly allowed us in on. When I was Suffolk Guild Ringing Master we often travelled the county to District events and this was probably the aspect of the role I enjoyed the most as we went out meeting friends established and new in all sorts of wonderful places. Therefore, even though we can't travel to the pretty communities we are fortunate to have within easy travelling distance, we were delighted to catch-up with some familiar faces and others we had never met before, including a goodly number from Buxhall where things seem healthy!
The actual ringing was good fun too and I think useful for many, including us, as we continue our learning curve on this medium we hadn't tried until three months ago! Those present were split into two groups, one for learners and one for us 'more advanced' ringers. At one point, I was amused when having gone downstairs to make a cup of tea to come back upstairs to hear my wife saying "you've stitched me up" in my general direction - having handed the laptop over in anticipation of some Cambridge Surprise Minor, Stedman Triples had been called for. As we know, Mrs Munnings' views on Stedman are less then complimentary...
Her favourite principal was but a part of an eclectic range of methods that stretched from Plain Bob Minor to Norwich Surprise Minor to Little Bob Major and Kent Treble Bob Major. Not everything went, but I'm yet to have come across a RR session where everything has and I thought NW Ringing Master Maureen Gardiner ran things excellently in a productive hour-and-a-half of ringing.
It also broke up another long day in, bar quickly nipping out to get some essentials like bread and milk and some pre-ordered paint, which was subsequently used to continue our decorating efforts.
Further afield, it was uplifting to see that the new ten in the tower of the Grote Kerk in the Dutch town of Dordrecht, with photos from long-time Rambling Ringers friend Paul de Kok sharing photos on various ringing Facebook pages.
God willing we will get to ring on them in the near future, but for now we are happy to accept invites to fictional villages!

Please post any comments on the
facebook page.
Top
Friday 8th January 2021
Even in these unprecedented times, we are living in a strange period where despairing news is being released simultaneously with messages of hope on exactly the same subject. Today, a major incident was declared in London due to the capital's rising case numbers, whilst here in Suffolk we were told that Ipswich Hospital is full (and thus having to send non-COVID cases elsewhere) and deaths attributed to the virus were the highest ever for this country. It is grim and further reiterates why gathering together to ring in person just isn't possible and regrettably I imagine won't be for months.
Yet this cold, grey January day also saw the announcement of the approval of a third vaccine that most importantly God willing will see fewer people getting ill and dying, but would also allow us all out of this dreadful purgatory and back into the church towers of our wonderful county. Additionally, although the case and death totals still grow alarmingly, it is also nice to see running totals of how many people in the UK have now been vaccinated, a figure that has now reached around 1.5m people. And whilst – unless something unforeseen occurs – Ruthie and I will have to wait our turn until probably the second half of this year at least to be vaccinated, for now we can enjoy moments of positivity that we wouldn't necessarily get if we weren't all stuck under one roof for the foreseeable. Such as Joshua's performance of The Gruffalo with the lollipop puppets he made of the characters for his schoolwork!
Meanwhile, although ringing in person seems some way off, ringing and meeting online is helping to keep ringers connected and ringing minds sharpened and although we participated in no ringing ourselves today, this evening we virtually met with others who had, with members of the bands who had rung in the quarter-peals of the standard eight Surprise Major methods spliced and Yorkshire Surprise Major on Ringing Room joining us in Simon Rudd's weekly virtual pub. It was a pretty upbeat gathering too, with admiration expressed for how ringers have adapted to the circumstances of the last few months, especially with Tim Hart's eBells and in regards to the efforts of the band in Singapore whose ringing had barely got underway when they too were stopped by restrictions.
Earlier, Ruthie and I were watching today's edition of the quiz show Pointless, which featured a student ringer called Freddie from Oxford, who despite his underwhelming endorsement of the art can be found on BellBoard still ringing as much as most are at the moment! He had a good chat with the host Alexander Armstrong (about 6mins 30secs in) about ringing peals, including the interesting information that his grandmother was the first woman in Scotland to ring one!
History of ladies peal-ringing on primetime BBC? We are living in strange times.
Please post any comments on the
facebook page.
Top
Thursday 7th January 2021
Daytimes have taken on a pattern familiar from last year. Although Alfie in particular is already missing school and his friends a lot, Ruthie has done magnificently keeping the boys learning, whilst I work upstairs, my only companion – apart from the occasional visit from my curious sons, the cat curling up nearby from the cold outside and my wife bringing me gratefully received cups of tea – being BBC Radio Suffolk running in the background.
This afternoon's 'Dolphin's Dart' (a competition to find a place in the county through three clues) on friend of ringing Lesley Dolphin's show took listeners to the villages of Bradfield, where apparently sixteen other church towers can be seen from the top of the tower at St George, according to Simon Knott's superb Suffolk Churches website. It got me thinking later how many towers with bells might be included in the sixteen. Whilst the 9cwt five here are unringable, I imagine the 15cwt six at Rougham is in one of the towers, as might be the five of Hessett and maybe Felsham. Can Drinkstone, Rattlesden, Thurston and even Woolpit be seen? Perhaps those local to the area may know more?
I also wondered how many of those bells might be heard from Bradfield St George, but that experiment will have to wait, so for now ringing continues to take advantage of technology to keep going, including Mike Cowling who rang another handbell quarter with his brother Geoff in Herefordshire via Facebook Messenger today.
Technology enabled me to ring tonight too, as I joined another open Ringing Room practice with ringers from across the country and beyond, allowing me to ring some Stedman Triples, Surprise Major (including Bristol, Yorkshire and the 'standard' eight spliced), Grandsire Caters and Little Bob Royal to varying degrees of success. It was all very worthwhile and enjoyable and great to keep refreshing the ringing brain.
Meanwhile, Guild Librarian and South-East District Secretary Dr Abby Antrobus is giving a talk on Facebook on the subject of The Relationship between the Abbey and the Town - with the town in question being Bury St Edmunds – later this month. There are more details available via the SGR's Twitter account, but the time and date for your diaries is 2-3pm on Saturday 23rd January, so do tune in!
It should be a nice break from the our weekly daytime pattern!
Please post any comments on the
facebook page.
Top
Wednesday 6th January 2021
Continuing on from yesterday, it was lovely to move forward in planning some potential ringing in the near future, albeit online of course.
One was in the form of links to Zoom and Ringing Room for a virtual gathering for the Rambling Ringers Reunion Dinner next month, which God willing should see us meet up virtually with ringing friends from across the country and beyond, with the host from the USA.
The other is in regards to the CCCBR's new initiative, the Cast of 1000. They are looking for volunteers to offer some time to help out at practices with specific purposes, particularly Treble Dodging Major, based around Project Pickled Egg. Whilst this will be via Ringing Room whilst we can't go out and about to church towers to meet up in numbers, ultimately the plan is this will happen with physical, in-person sessions that – if they get enough volunteers – will see the helpers (or the 'Cast') hopefully be able to share the load between a number of others and in theory only be needed for a practice or maybe two a month. If you know someone who might benefit from attending such practices or you would like to volunteer your services to help, then please do email cast1000@cccbr.org.uk.
That is just what I have done and today I was sent a very short and straightforward form to fill in sent by a long-time ringing friend of mine Stef Warboys who with Council President Simon Linford is co-ordinating this exciting project and hopefully gives me an opportunity not just to help but to progress myself, especially in PPE, where in the past geography and lack of time have prevented me getting much of a chance to expand into this area.
I have already been getting plenty of practice on RR since we first had a go back in October, often through the open sessions advertised on the Ringing Room Take Hold Lounge on Facebook, but mainly with our fellow Pettistree ringers on at least a weekly basis, regularly twice a week. However, we also recognise that it isn't everybody's cup-of-tea and so for those of our regulars who'd rather not ring on this online platform it was decided as a collective to put one Wednesday aside each month for a purely social gathering to allow them to feel more comfortable in joining in.
It certainly worked tonight, as we were greeted with some new faces on the virtual circuit as Suzanne Stevens (and briefly her son Richard too) and former local Bill Lloyd joined us and it was lovely to see them both and hear how they are getting on. Many will be familiar with Suzanne, a ringer at Sweffling and Rendham who is always useful to have in a band, but perhaps fewer with Bill, who learnt to ring at the ground-floor six of St Peter and St Paul, ringing a number of quarter-peals and his first – and thus far only – peal here, which I was privileged to ring in. Since he moved down to Somerset just over five years ago, we have been delighted to see he has kept up ringing, including further QPs, although like so many he hasn't done any ringing since March.
Sandwiched in between much catching-up, Hilary Stearn hosted an expanded quiz that was as usual very enjoyable, especially as we won again! Despite seemingly somehow becoming masters of quizzing since it all moved online (and no, we don't cheat!), we have never had any luck in organised quizzes where you win actual prizes and so after our latest victory we treated ourselves to a prize of a box of chocolates originally meant as Christmas gift for one of Joshua's teachers at school but never handed over as he had to isolate from school before the end of term and hasn't been back since!
We enjoyed the chocolates whilst distracting ourselves from the staggering yet sad scenes in Washington DC at the seat of government for what was once the beacon of western democracy, by watching yesterday's lecture by Professor Sarah Hart on Gresham College's YouTube channel on The Mathematics of Bell Ringing. At an hour long it is too short to do it justice as she herself acknowledged, but she still manages to pack an awful lot in. Much of it is very mathematical, as you would imagine, but even though I'm not blessed in the subject of maths (as Mary Garner will testify having had to guide me to achieving a pass in the subject for GCSE!), it was fascinating seeing her as a non-ringer put the exercise through her expert mathematical explanations. Well worth a watch if you get the opportunity.
I was certainly pleased to find the time in my increasingly hectic online diary!
Please post any comments on the
facebook page.
Top
Tuesday 5th January 2021
It is still the norm – and I expect still will be for a while – the norm to receive news of cancelled events and the latest came via an email this morning from Rambling Ringers' Secretary Geoff Pick informing members that the annual Reunion Dinner that usually takes place halfway between the summer tours in February is definitely cancelled next month. Even Geoff recognises that it comes as no surprise and such was the assumption that it would be that plans to meet and ring virtually on the night were started a couple of months ago, whilst actually we haven't been able to attend for a few years, but it is still a sad indication of the times we are living in. As is that whilst the plan is still to hold the seventieth tour in Leicestershire a year after it was originally lined up, there is still a considerable degree of uncertainty as to whether it will go ahead or not, with a definite decision expected by the end of May. Like so much planned for 2021, it is 'watch this space'.
Meanwhile, it was interesting to hear that the Chelsea Flower Show is due to go ahead between 18th-23rd May, even though the Suffolk Show abandoned any plans to go ahead a week afterwards many months ago, which gives hope that the Suffolk Guild Six-Bell Striking Competitions may be able to go ahead on Saturday 15th May in the North-East District.
Much has to go right with the vaccinations to get to the that point, so none of us will be counting any chickens at the moment, especially as we're just about as far from that point as it's possible to get right now. Unless they are fortunate enough to be in the same household or support bubble, ringers are not allowed to gather together in person to ring and so today was another one of online ringing, which from the perspective of the exercise is the biggest difference from that first lockdown. Apart from some 'rogue' towerbell ringing, the first day of that one on 17th March was limited to a QP on handbells by wife and husband Anne and Neil Westman and one via Abel, plus a handful of touches in hand and a course of Westminster Surprise Minor by Matthew Blurton on his iPad using Mobel. Today though, saw ten quarters rung, seven online (including first quarters for Caroline Prosser-Lodge and Hilary Smith in the 1260s of Plain Bob Doubles and Grandsire Doubles respectively on Ringing Room, as well as a 1344 of Bristol Surprise Maximus on the same platform), one via Facebook Messenger and one in hand by the Pinks (the twelfth day in a row they have rung a quarter-peal). Online ringing is nowhere near as good as the real thing, but mercifully we have come a long way in the last ten months.
Although not me, as today I returned to working from home, in our bedroom and initially again on our bed. I have been working in a sparsely populated office building since I first returned from the first lockdown in July, apart from when we had to isolate when waiting for the result of Joshua's COVID test at the start of October and when he had to isolate in the lead-up to Christmas. It felt perfectly safe and it is certainly more effective me working at my desk set-up for the task, but last night's announcement quite rightly saw John Catt Educational insist we all work from our abodes. And thanks to the efforts of Ruthie, this afternoon I was able to work from a desk, albeit the top of her electronic piano, which my back will probably thank me for if I end up doing this for the next seven weeks or so!
I shall miss the human interaction of my work colleagues, as I will of seeing my fellow ringers in person, but as I can work remotely there are plenty of opportunities to ring and socialise with ringers remotely too and I would certainly encourage ringers to seek out as much as they can to help keep you in touch and – mentally at least – in shape. Close to home, the South-East District has events lined up on Zoom on the first Saturday of each month at least until March, whilst God willing the North-West District are hosting a practice on Ringing Room this Saturday. More broadly though, the Ringing Room Take Hold Lounge on Facebook advertises open practices and The Ringing World's Virtual Hub also gives details of online events and activities.
It's not the same, but at least it is all helping make up for the cancellation of 'real-life' events, even if just a little.
Please post any comments on the
facebook page.
Top
Monday 4th January 2021
For all the joy of leaving 2020 behind, 2021 has actually been a worse year generally thus far.
Lockdown 3.0 announced this evening by Boris Johnson in a statement that even Alfie sat and watched with a degree of understanding that has come from nearly a seventh of his life thus far being under this cloud and his education disrupted by the ever-changing circumstances, comes against a backdrop of more being ill with coronavirus and hospitals struggling more than at any point during the pandemic. All very depressing, but the closing of schools again (although Alfie and Joshua didn't go in today as their school - in keeping with many others – was closed for a Professional Development day for the teachers) and urging of people to stay at home unless absolutely necessary until probably mid-February at least, seems entirely necessary judging by the numbers imparted and what we have all heard from inside hospitals. As unimportant as it is in the scheme of things, it also means that we will have gone longer without any ringing on church bells – bar the brief burst on Christmas Day – then following Lockdown 1.0. It feels as if we've gone back in time to last March, only worse, without the nice weather.
However, as we all know, we are in a very different situation now. There is light at the end of the tunnel with vaccinations being given out and so there is still hope that we will be ringing unrestricted later this year. And of course more of us are far more familiar and proficient with Ringing Room and Handbell Stadium, which means that although we can't ring church bells and handbell bands can't meet from different households or support bubbles, there is still a relatively long list of performances on BellBoard from this first Monday of the year. They were all rung online of course, bar a couple of quarters in hand in Australia and another by the Pinks of Crowhurst in East Sussex, but that is what we ringers will have to get used to for the foreseeable.
God willing there is plenty of time for 2021 to get much better.
Please post any comments on the
facebook page.
Top
Sunday 3rd January 2021
2020 may have been left behind, but the effects of all that mainly came to fruition during its time are still being felt in 2021, as we knew they would.
As Boris Johnson confirmed that Alfie and Joshua would still be returning to school this week (not them specifically of course, but you know what I mean!), he also warned menacingly of tougher restrictions. Speculation suggested making people wear face masks in more places, a return to two metres for social distancing, imposing another national lockdown, closing schools after all and banning people leaving the house for more than an hour even for exercise, which is a grim prospect even in a wet, windy, cold January when our instinct is often to stay cosied up indoors with the heating on full blast.
However, on this morning's weekly Sunday morning video chat for St Mary-le-Tower ringers we got a sobering insight into why with this new variant of coronavirus we have to roll with these crippling restrictions, as Dr Alex Tatlow gave an idea of the numbers of people in his hospital in Guildford with Covid-19 and how much of his annual leave he has had to sacrifice to help out. With such a grim situation, it is hard to imagine shops opening anytime soon, let alone ringing resuming and in the scheme of things that is the way it should be.
Our virtual gatherings for tea and coffee are also something that has carried on over from last year, but there were some new faces from our usual group. Most notably my mother Sally has finally been able to find a camera for her PC and so was able to join us. From a family perspective it is great to know that she will now be able to participate in the online socialising that looks likely to still be the norm for some weeks and possibly months to come, but also it will allow us to see each other without taking unnecessary risks. She wasn't the only newbie though, as an invitation to the ringers of The Norman Tower who usually support ringing at SMLT in normal times was accepted by Julian & Cath Colman (who have had to put up with us a lot this week, the poor souls!) and Guild Chairman Rowan Wilson.
Rowan was able to give us an update on the projects to augment the four at Barham to six and the six at Hitcham to an eight, both of which have coverage on websites, with the latter also sporting a superb video. Apparently both are pretty much complete and should be ready to ring when the exercise resumes and if maximum ventilation is still necessary at that point, the locations of their ringing chambers are well placed too, in the porch (much like Burgh for those who have rung there) and from a new gallery (like Tostock, amongst many others) respectively!
Meanwhile, David Stanford's interview with Rowan in the current bumper Christmas and New Year edition of The Ringing World can now be found on this website, as can an article from the RW in 1932 about the recasting of four of Debenham's bells, one of several fascinating snippets relating to the county's ringing from that year's publications that Katharine Salter very kindly showed us all at yesterday's South-East District Meeting.
Our 'gathering' this morning was a mere precursor for the Colmans as they later helped their son Nathan to ring his first quarter-peal in hand with the 1260 of Plain Bob Minor in Bury St Edmunds. Congratulations Nathan and also local ringer Barry Dixon (a big help when I used to organise the Guild Peal Weeks during my time as SGR Ringing Master) and his wife Eileen on the birth of their granddaughter.
No ringing for us though, as instead we took the boys out for a walk whilst we're still allowed and Alfie then helped me with Mark B Davies' marvellous Methodoku Mayhem on a leisurely afternoon that this time involved no shifting of tables! I even got time to listen to the recording of the 36cwt six of Queen Camel from BBC Radio 4's Bells on Sunday, a lovely sound the like of which ringers will have to wait just a while longer to hear live, even if we have left 2020 behind.
Please post any comments on the
facebook page.
Top
Saturday 2nd January 2021
We spent a considerable amount of time manoeuvring a dining table through a gap that was very narrow once all the angles were taken into account. Apart from demonstrating how these active bellringers are now spending what were once often our busiest day of the week for ringing, it briefly tenuously linked to ringing as I contemplated if bellhangers ever have the same trouble, whilst we twisted and turned the aforementioned furniture at various heights! I suspect not..
Mercifully, there was ringing-related activity for us to enjoy today as we joined fellow South-East District members for their monthly meeting, which although currently being held on the once unfamiliar Zoom, are happening on the familiar first Saturday of each month, as they were before Lockdown 1.0 last year. Personally I feel it is a canny move from the SE, as although we can't go anywhere and do ringing on actual bells together, I think it is important for Districts to reintroduce normality into their calendar, if they aren't already, so that when ringing returns members get into the habit of when their District's events are happening so that these can be as well supported as possible when they become in-person occasions again. The North-West District seem to be doing the same, with a practice on Ringing Room and Zoom planned for next Saturday between 10.30am and noon. Please contact NW Ringing Master Maureen Gardiner for further details and the links.
The South-East's event was a lovely occasion in the circumstances, with Katharine Salter very kindly sharing some of the Suffolk-related news she had found from 1932 editions of The Ringing World either side of a fantastic quiz set by Hilary Stearn (once she had remembered to join us!), which - rather typically for quizzes when one doesn't get a prize – we won! Thank you Hilary for a great quiz, which was jolly good fun.
Although it wasn't a business meeting, conversation did turn to District and Guild matters, such as that subscriptions are due. With many people's finances stretched and jobs lost, furloughed or uncertain, this year it will understandably be difficult for some to justify spending money on something like a bellringing subscription, even if at a top rate of £20 for a whole year it is far cheaper than subscriptions for many other things and so I hope that all who can afford to will pay their subs as soon as they are able to help the SGR in these troubled times.
How to attract more to these events also came up and Chairman Mark Ogden, Ringing Master Jenny Scase and Secretary Abby Antrobus are keen particularly to hear from those who didn't join us this afternoon, as to what might encourage them to in the future as we aim to keep the ringing family together in these times of isolation. Over twenty joined in, which wasn't terrible with routine for many people turned upside down and such technology not everybody's cup of tea, if they have the means at all, which also led us to consider how we can stay connected to those unable or unwilling to use the internet in such a way. Some present gave examples of how they are already keeping in touch with such members primarily by phone and it became apparent that it is best done locally, but could be tied in with and helped by a paper newsletter of some sort, although it was noted that distributing such a publication at a time when we should only be making essential journeys might not be possible in many cases. Any ideas would be much appreciated!
Mark also imparted that Guild Chairman Rowan Wilson is keen to find out what towers have been using Ringing Room and have – when restrictions permitted – rung handbells and church bells and admittedly it would make for a fascinating snapshot of this most unusual period in our near-hundred year history, so if anyone has, then please do let her know.
Elsewhere in the county, others were participating in actual ringing, albeit on Ringing Room, as a NW band rang a 1296 of Queen Mary Surprise Minor, which is the sixth place version (meaning that a bell makes sixths at the lead-end and everyone between them and the treble plain hunts, rather than making seconds over the treble and everyone else dodging) of King Edward Surprise Minor, which in turn is the same as Cambridge Surprise Minor, except that a bell makes thirds at the half-lead instead of a bell making fifths under the treble.
Still, although it didn't involve any actual ringing, we enjoyed our catch-up with friends, including Anne Buswell, who having been over to the Covid-free Isle of Man recently had even rung some Plain Bob Triples on actual church bells! It was in the circumstances a lovely couple of hours.
And it at least meant I had more to report today than moving a table!
Please post any comments on the
facebook page.
Top
New Year's Day 2021
2021. Never has a year been so eagerly anticipated. Nor one so uncertain.
With two vaccines now being given out there are high hopes that whereas 2020 saw freedoms lost, that this year will see them regained.
However, the uncertainty comes from when those freedoms will return and how much society will have recovered from the dreadful shock of last year.
More pertinently to this blog, when will ringing resume? When the government say things will "begin to return to normal in the spring", is that early spring or late spring? How will that relate to ringing? Will we be ringing bells socially distanced as we had to when restrictions were relaxed last July and for Christmas Day? Might we be able to hold the Suffolk Guild AGM in person in the South-West District on 10th April? And the Six-Bell Striking Competitions in the North-East District on 15th May? Or will those events have to be held later in the year?
God willing things will have returned enough to normality for the Rambling Ringers Tour to Leicestershire to go ahead in the summer and maybe the National Twelve-Bell Striking Contest Final at Guildford on 26th June will go ahead in some format, even though the eliminators – including the one that was due to take place at The Norman Tower – have already been cancelled.
That striking from the calendar of the eliminators that were to take place on 27th March is a reminder that for all that we have left 2020 behind and that vaccinations should God willing return things to normal, we still remain in the grips of a very difficult winter that makes full-on ringing extremely unlikely for the first three months of the year and so sadly events like the George W Pipe Twelve-Bell Competition pencilled in at Waltham Abbey on 20th February is almost certain not to go ahead.
I have also long resigned myself to the fourteenth anniversary of Mason's birth later this month being the latest of my son's birthdays to go unmarked by a peal of appropriate length and/or numbers of methods. It had been my intention to ring such a peal for each of the boys' birthdays at least up until their eighteenth birthday as something for them to hopefully look back on with pleasure later in life and so not being able to do that (neither my handbell or Ringing Room abilities are anywhere near peal-ringing standards) for Alfie and Joshua's birthdays last year was one of the things that I was personally saddest about being prevented from doing. Amongst my modest ambitions for 2021 along with simply being able to ring in unrestricted conditions is to ring a peal of either seven methods and/or a 5007 for the seventh anniversary of Alfred's birth in April, even if it has to be outside on the Vestey Ring!
Also amongst my modest ambitions is using my new Ringing World Diary more and pleasingly it was nice today to fill in some dates in it, albeit mainly for online events. Indeed, for all the hopes of a new start with a new year, today was very much like most days in 2020, spent at home, enjoying the efforts of other ringers (especially the latest video from the Ringing Robots built by the Firmans in West Sussex, this time ringing the musical Rapid Wrap Major) and come the evening chatting to friends from afar by video. These virtual gatherings were another rare plus from last year, allowing us to meet regularly with ringing and non-ringing chums that we would usually be able to, such as tonight's weekly drink with Simon Rudd that saw ringers from Suffolk and Norfolk joined by others from Bedfordshire, Hampshire and Lincolnshire and where the conversation veered from birds to a University of London Society calendar and their dress sense at the 1983 National Twelve-Bell Striking Contest Final at Evesham!
Meanwhile, here in Suffolk, wife and husband Gillian & Bruce Wakefield were ringing the bells at Woodbridge before a church walk, with the ringing mentioned as part of the plans in an excellent bit of local PR and a good sign from the new Rector Father Nigel Prior.
Hopefully there will be much more ringing on this 25cwt eight and elsewhere in 2021.
Please post any comments on the
facebook page.
Top
The views expressed in this blog are the author's own and do not necessarily reflect those of The Suffolk Guild of Ringers.